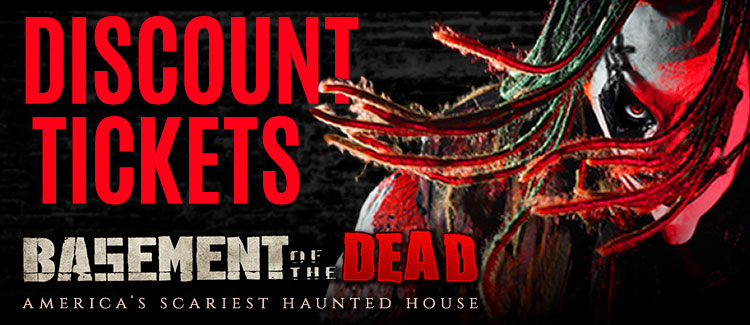 Basement Of The Dead Aurora Discount Tickets
Save 20% off Regular Priced General Admission and VIP Admission to Basement of The Dead Haunted House in Aurora Illinois.
Use Promo Code: CHICAGOFUN when ordering tickets online.
Coupon may be printed and redeemed at ticket counter as well.
CLICK HERE TO ORDER DISCOUNT TICKETS…USE PROMO CODE CHICAGOFUN
Chicago Illinois Haunted Houses are some of the SCARIEST and BEST in America!  Basement of the Dead Haunted House is located in Aurora, Illinois and is one of the scariest haunted houses in America!  View Discount Coupon Details…
The cellar at 42 W. New York St. teems with terrifying secrets. According to legend, it once housed a laundry company where a faulty boiler exploded, burning two engineers who vowed revenge on their bosses. Soon, workers began disappearing, only to reappear in the nearby river, their arms still clutching perfectly starched shirts. Though the laundry closed, no business ever thrived there again. That cellar became the grisly playground of the two engineers—and is now known as the Basement of the Dead.
But the engineers and their ongoing crimes aren't the only scares to be found in that place. There's also Shattered the Clown—a murderous performer armed with a sledgehammer. After his famous trick backfired and turned deadly, Shattered went on a rampage through the audience. He then hid in that same basement, going increasingly mad with only the souls of his victims to keep him company. He's since turned his part of the cellar into a colorful, terrifying 3-D circus.
Basement of the Dead has earned numerous awards, including being rated the No. 1 Haunted House in Illinois and top 13 in the Country by Hauntworld.com.
ChicagoFun.com
Average rating:
0 reviews