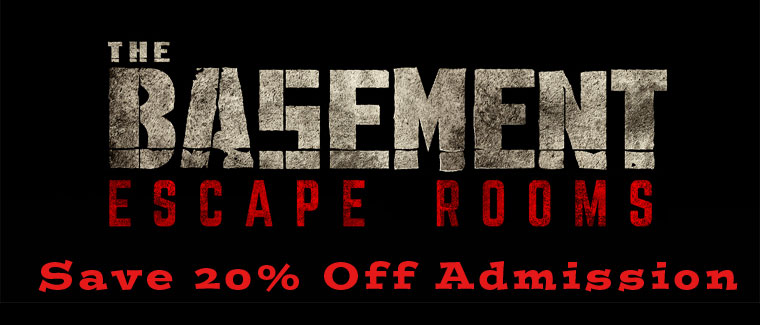 Basement of the Dead Escape Rooms Coupon
This Coupon allows you to Save 20% off admission for up to six participants at ( The Basement Attractions).
THIS COUPON CODE IS CURRENTLY NOT VALID
The Basement Escape Rooms are now open and is located 42 West New York Street in Aurora, Illinois. The folks behind the attraction made sure that the themed rooms were unlike any other. Their amazing scenic designers, writers and artists created these one of kind rooms that contain clues, puzzles and other mind teasers to test your ability to unlock the rooms and escape. Room themes include:
QUARANTINED- Your team tries to break into a terrorist lab to stop a Zombie Warhead Missile from launching an infectious disease that will destroy everyone. But beware there is also a LIVE Zombie in the room with you. You must break into the lab, stope the missile launch, find the cure and ESCAPE.
TRAUMATIZED- Your team has been captured by a serial killer, Dr. Trauma, who plans to slaughter all of you and sell your organs for cash on the black market. Dr. Trauma gives you a fair chance to ESCAPE as he gruesomely dismembers the group before you in cell block 66. You must solve the puzzles, follow the clues, find the keys and combinations to make your final ESCAPE. Will you survive?
CHECK OUT MORE SAVE ON FUN COUPONS BELOW!!
FOLLOW US ON FACEBOOK FOR DAILY COUPONS DISCOUNTS & GIVEAWAYS!