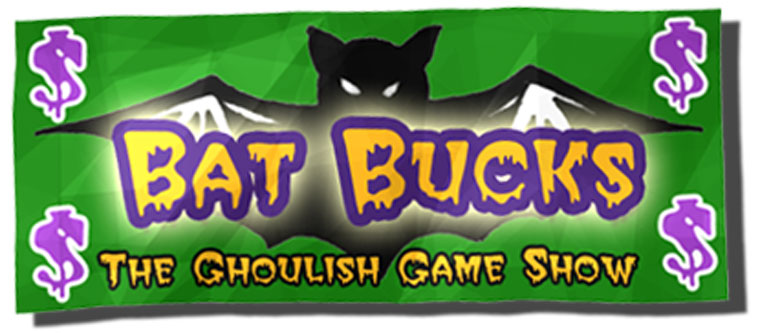 Bat Bucks The Goulish Game Show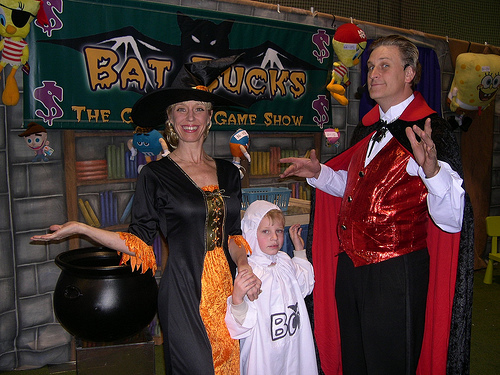 Save $25 off a Bat Bucks Game Show at your next Halloween party or special event.
Join us for our Bat Bucks Halloween Themed Game Show. This family friendly show features all new fun games and prizes it's a thrill a minute!
Unlike many "trivia based" game shows where contestants ring a bell and answer a question,  Bat Bucks is an "action" based game in which the contestants are competing in clever, creative, challenging and entertaining games of a physical nature. The grand champion enters the Kidbucks chamber and grabs as many "Kidbucks "  as possible, as they swirl about the chamber.  The bucks are tallied and redeemed for a prize based on how many bucks are collected.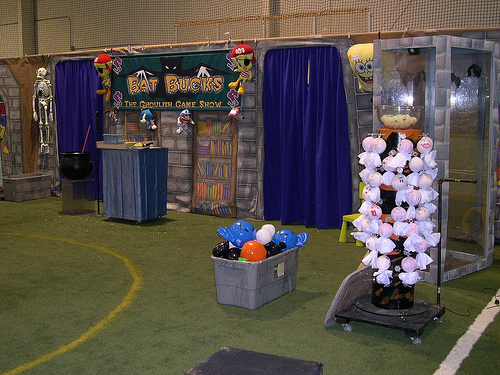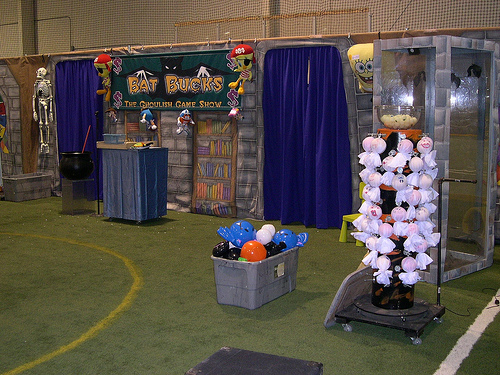 CLICK HERE TO VISIT OUR WEBSITE…
This production is a sensational brew of spookiness, comedy, audience participation,fun, and suspense, that will leave your audience howling with laughter and screaming with delight.
The money chamber is decorated as a belfry. The "bucks"  are "Bat Bucks", and have a large bat on them.  As the Bat Bucks swirl about the
chamber a strobe light is cast upon them creating a dazzling display of Bats flying in the belfry.
The winners wheel is decorated as large spider web and is referred to as the "winners web".  All of the games have a Halloween theme or twist to them.  The raffle balls used to select contestants are plucked from a bubbling and brewing witches cauldron, even the host and Co-host are clad in Halloween themed attire. Popular seasonal music underscores the mood.
Some of the songs include  the Monster Mash,  Thriller and the theme songs
from the movies: Halloween, Friday the 13th, Ghost Busters and Nightmare on Elm Street.
CHECK OUT MORE SAVE ON FUN COUPONS BELOW!!
FOLLOW US ON FACEBOOK FOR DAILY COUPONS DISCOUNTS & GIVEAWAYS!