Boating on the Fox River Brings Fun for Families and Friends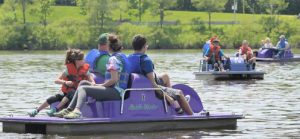 Can you kayak?  Or do you believe in pedal power?  Either way, the St. Charles Park District boasts awesome boating opportunities for anyone who wants to roll – or make that, row – down the river.
"You get a whole different perspective of both the river and the park when you're out on the water," said Sabrina Killeen, Recreation Supervisor.  "It's one thing to walk along the shoreline or view it from a car, but it's an entirely different experience when you actually glide along in a boat."
With kayaks and pedal boats available for rental every day mid-May through mid-August, there are plenty of chances for friends and families to find out what this fascinating natural resource is all about.  Home to myriad species of fish, turtles, birds and other aquatic area life, the Fox River is an important ecological resource and an abundant source of fun.
Pedal boats are easy to maneuver and, being people-powered, provide a great physical workout.  Canoes conjure up images of lazy summer afternoons spent just watching the world go by at duck's-eye level.  Either way, they offer an inexpensive way to work up a sweat or ease away the stress.
Both canoes and pedal boats are available for launch at the River View Miniature Golf facility daily from 11am to 6pm from May 18 through mid-August.  Normal daily rates are $17 per hour per boat, and during "Putt-n-Save" Wednesdays, the rental rate drops down to $12 per hour per boat – a substantial $5 savings!
Rolling down the river and back in time is perhaps no more iconic image for a Midwestern river town than that of a stately paddlewheel riverboat plying its waters. Daily sightseeing excursions launch from Pottawatomie Park beginning in May through October. Open-air upper decks are ideal for unobstructed sightseeing, while enclosed lower levels provide respite in case of cool or rainy weather. Boats are also available for private charters – family reunions, business outings or wedding receptions.
As always when getting out on the water, safety is a primary concern.  Children ages 15 and under must be accompanied by an adult.  All guests are supplied with a U.S. Coast Guard-certified life jacket and park district staff will help guests with proper fitting and instruction in use.  Staff will also assist boaters in getting in and out of the water, and review all pertinent safety rules and regulation.  Once boaters are on the river, staff monitor their activity and encourage boaters to stay within a pre-determined course visible from the River View Miniature Golf riverfront.
For more information about boating in St. Charles, call 630-513-6200 or visit stcparks.org.