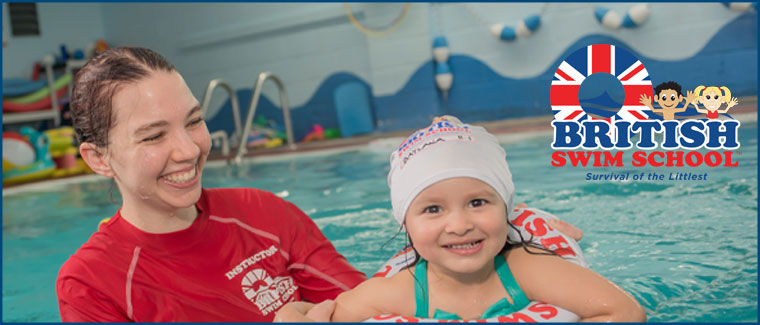 British Swim School Coupon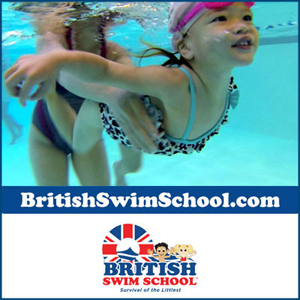 British Swim School has pioneered a non-traditional infant water safety program that provides gentle and fun teaching methods and encourages parents to not be fearful of the water, but instead equip children with the skills to safely enjoy water playtime.
This coupon allows you to Buy 4 swim lessons and we'll add two more for FREE. With over 25 Chicagoland locations, there is bound to be a class near you. Click Here to view coupon details. 
"We believe that everyone – from as young as 3 months old – needs to know how to swim and survive in the water. Our distinctive program, developed over the last 35 years, is tailored to the skill level and learning abilities of each student in a fun and positive environment.
Our mission is not only to provide quality and innovative water survival skills to children, but also to teach parents and family members to be responsible water watchers.  What does 'water watcher' mean?  This means someone should always be designated to monitor children at or near water.  We cannot assume someone else will.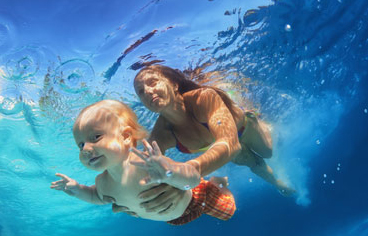 The NIH reports an 88% reduction in drowning incidents for children that participate in formal swim lessons.  At British Swim School, we foster a love and respect for water within kids and adults.
With over 25 Chicago-land locations, you are very likely to find a class near you.  Contact us today to sign up!  Class times vary by skill level and location, so please call 630-333-9382 or visit our website to find the class that best suits you or your child(ren)!