Camp Pillsbury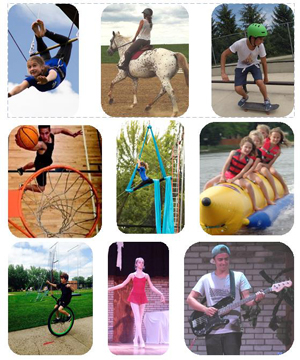 Register for 2020 Summer Camp Today! Camp Pillsbury is the ultimate overnight summer camp for kids ages 6-17.  It is a unique sleep over camp that provides over 100 activities to choose from.  No matter what each child's interests are, they are certain to find activities that not only fascinate them, but help build their character, self-esteem and confidence.
Camp Pillsbury offers its campers the chance to fly on the flying trapeze, participate in musical theater, team sports (such as basketball, baseball, soccer, volleyball, gymnastics), learn magic tricks, go horseback riding, tumble, cheer dance, and play an instrument – all in the same day!
Camp Pillsbury is helping kids from all over the world be successful through programs led by experts and entertainment industry professionals in a unique camp environment.  Our campers learn from the best to be the best.
Campers sleep in dorms and will be provided with great food, fun and friends throughout the summer in a safe and nurturing environment.
Register for 2020 Summer Camp Today! Visit www.camppillsbury.com for more information or to register.
CHECK OUT MORE SAVE ON FUN COUPONS BELOW!!
FOLLOW US ON FACEBOOK FOR DAILY COUPONS DISCOUNTS & GIVEAWAYS!