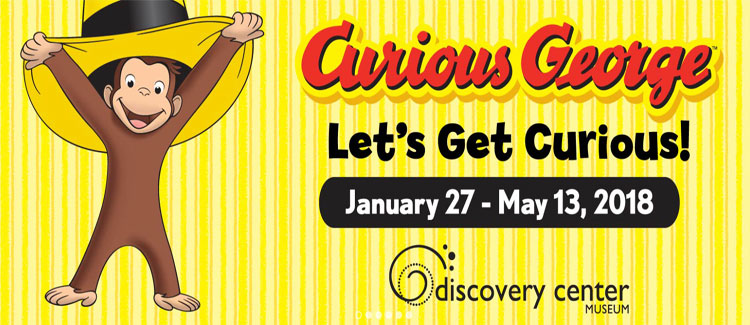 Curious George "Let's Get Curious" Visits The Discovery Center Museum
The insatiable curiosity of Curious George comes to life January 27th through May 13th at Discovery Center. The temporary exhibit, Curious George: Let's Get Curious!™, introduces young children to Curious George's world and leads visitors on a fun, interactive adventure.
Based on the familiar characters in H.A. and Margret Rey's classic stories, the Curious George exhibit inspires young children's natural curiosity as they explore early science, math and engineering through hands-on interactive play. We are excited that the exhibit signage is in both English and Spanish.
Take a trip to the neighborhood where Curious George lives with his friend, The Man in the Yellow Hat. You and your children will recognize familiar characters and places featured in the classic stories and the television series on PBS KIDS.
The exhibit encourages children to operate wheels to help George climb a fire escape into his apartment building; sort and weigh fruits and vegetables at the produce stand; use science skills to putt a hole of mini golf; have their picture taken with the rocket from George's space adventure (and email it home); build a whirligig and other yard art at the farm; use machines to move materials at the construction site and visit the Museum within the Museum.
General Admission + Curious George admission: $1 members / $11 public.
Visit Their Website for more information and ticket information or call (815) 963-6769.
CHECK OUT MORE SAVE ON FUN COUPONS BELOW!!
FOLLOW US ON FACEBOOK FOR DAILY COUPONS DISCOUNTS & GIVEAWAYS!