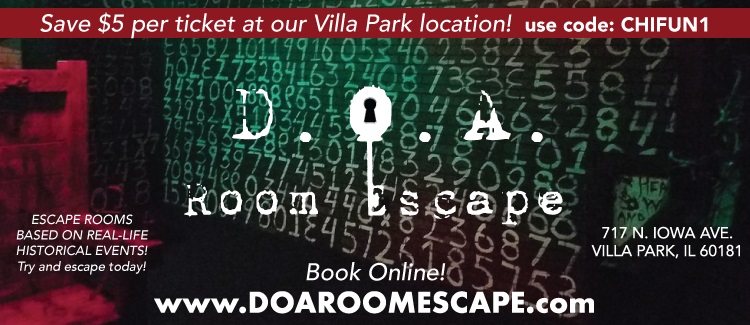 D.O.A. Room Escape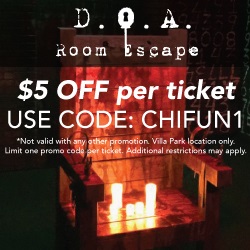 This D.O.A. Room Escape coupon allows you to Save $5.00 off per ticket on any of our rooms in Villa Park, Illinois. Must enter or mention Promo code "CHIFUN1" when purchasing tickets to receive discount.
It's a heart-pumping, adrenaline-laced, interactive experience you'll get hooked on from the minute you hear that door close behind you. You are locked in a room with friends, family and possibly even strangers. Don't be alarmed. You are all there for one reason…to escape the room.
Once the door is locked, you have 60 minutes on the clock to put your brains together to find clues, solve puzzles, crack lock combinations and decipher riddles in order to find the "key" to your escape before your time is up! At D.O.A., we don't give you pretend missions, set up fake scenarios or play make believe. We know that history is far more interesting…and far more chilling… than anything we can make up. That's why all of our rooms are BASED ON ACTUAL HISTORICAL EVENTS. We take painstaking measures to ensure every prop is as close to authentic as possible, every wall is a replica of the original location and every clue tells part of the true story.
OUR MOBILE ESCAPE VERSION, D.O.A. UNLOCKED CAN GO ANYWHERE YOU ARE FOR GROUPS OF UP TO 180! STAYING TRUE TO OUR HISTORICAL THEMES, THIS ON-THE-GO VERSION IS BASED ON THE FATEFUL JOURNEY ON THE R.M.S. TITANIC. DO YOU HAVE WHAT IT TAKES TO SURVIVE THE TITANIC?
Visit Their Website

for more information or call 630-387-9099.