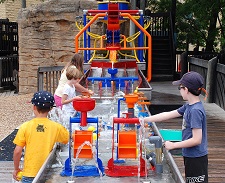 Check out all of these awesome events going on at the Discovery Center Museum this Summer!
For Family Fun that will create lasting memories visit the amazing Discovery Center Museum in Rockford Illinois. You will experience over 250 exciting hands-on exhibits spread over a two-floor area. Out in the museum's backyard, visitors can explore the one-of-a-kind Rock River Discovery Park, a giant multi-level science park with a hands-on twist! The museum also hosts traveling exhibits, special events and programs throughout the year.
June 15, 2018
Polynesian Party Family Friday. Luau shirts and grass skirts are perfect attire for this festival of fun art and science. "Swim" through a coral reef, play in a lava field, go "island hopping" and enjoy activities with an island flare! Your favorite Polynesian Princess will be on hand with the songs you love. All activities included with museum admission – $8/person and free to Members and children ages 1 and younger. Sponsored by SwedishAmerican – a division of UW Health.
June 22, 2018
Get down and dirty in Discovery Center's outdoor dig site, and learn how to jacket a bone. Go dinosaur crazy with fun projects as you make a T-rex puppet,  create a Cretaceous cap, and decorate a steno-silhouette. All activities included with museum admission.
June 29, 2018
Play in the water, mess with magnets, and witness the wonders of fire in Discovery Center's own version of Pokemon regional gyms. Collect badges throughout your trainer adventure, make Muk, participate in a rock throw, and more! All activities included with museum admission.
July 4, 2018
Explore where the oohs and ahhs originate for fireworks during this family fun event! Live science demos, a rocket launch, paint a fireworks display, and fit together a red white and blue masterpiece! All activities included with museum admission.
July 6, 2018
Find the physics that maintains a basketball's spin, locate the levers in your favorite sport, and rev up your brain to determine the winners in the Science Ball Game. Design your own logo and test your skills in the all-sport obstacle course. All activities included with admission.
July 13, 2018
Pull on your boots and overalls for this rural romp as we explore the farm! Bunnies and goats will be here to greet you with their pet-able barnyard buddies. Turn your thumbprint into art, match the grain with its cereal, and create a design using beans!  All activities included with museum admission.
July 20, 2018
Transform an egg carton into an ancient game board, invent art using rubber bands, learn the secret to being a psychic, and more! Turn flat paper into 3-D shapes, strategize to win the game, and learn to play ancient board games from around the world! All activities included with museum admission.
July 27, 2018
Bring your imagination and use our tools and recycled materials. Toy cars, musical instruments, and art are just the beginning! We'll also have loads of LEGOs, and oodles of building materials. You'll be amazed at what you can make and take home during this day of fanciful fabrication! All activities included with museum admission.
August 3, 2018
Sing, dance, and sneeze along during a lively performance by this nationally known singer / musician and his accordion playing friend! After you enjoy this amazing  musical experience, create and use sound makers you can take home! The Kona Ice Truck will be on hand with tasty treats for purchase!
August 11, 2018
Saturday, August 11, 6:00-9:00 p.m.Members $4 / Public $12. Get your robes and books ready for school! Discovery Center turns into Hogwarts for this evening of wizardly wonders. Meet your favorite teacher, sit in on a potions lesson, sample a snack, and invent your own prank kit suitable for a joke shop.
This BOGO Coupon allows you to buy one Discovery Center Museum General Admission at full price $8.00 and Get One Admission Free. Limited to 3 total discounted general admissions with 3 purchased general admissions.
Visit their website

for more information or call (815) 963-6769
CHECK OUT MORE SAVE ON FUN COUPONS BELOW!!
FOLLOW US ON FACEBOOK FOR DAILY COUPONS DISCOUNTS & GIVEAWAYS!