Elk Grove Village Park District Winter Activities Guide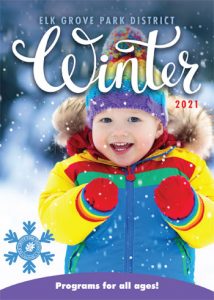 Winter 2020-2021 Activities Guide
Elk Grove Park District latest Winter catalog features virtual classes including group exercise, arts, athletics, a calendar of events through March and much more!
Seasonal and Activity Guides
The Elk Grove Park District offers a program guide for all of our recreational activities, events and programs. These books are delivered seasonally to all residents of Elk Grove Village, Illinois.
Many of our activities are available for online registration. As a courtesy to our residents, we offer an early registration period. After the early registration period has expired, registration is open to both residents and nonresidents.
To obtain a copy of our seasonal guide, contact the Elk Grove Park District at 847-437-9494 or visit one of our customer service locations.
Elk Grove Park District
1000 Wellington Avenue
Elk Grove Village, IL 60007
847-437-9494
www.elkgroveparks.org