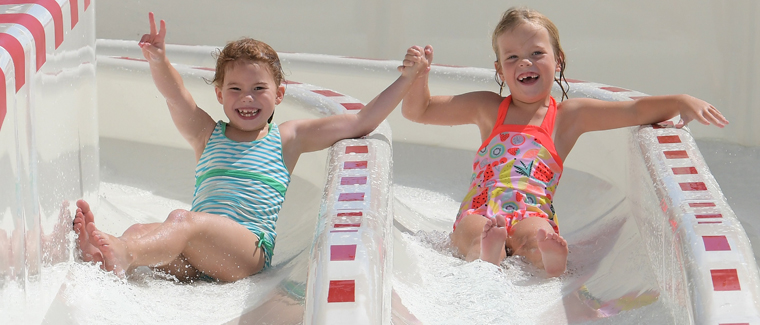 Every Day is Full of Events at St. Charles Park District's Aquatic Facilities
Hannah can't wait to show off her artistic talents at Deck Art Day, while Owen is looking ahead to August when he can wear his favorite Batman cape to the pool for Characters Make a Splash Night.  Meanwhile, Caroline's Dad wants to learn how to pilot a kayak at Paddle in the Pool and Will's Mom – well, she's just glad to have places to take her kids for days of summer fun where there's always something to keep them engaged and entertained.
Swanson Pool and Otter Cove Aquatic Park definitely fit the bill.  From Fun Fiesta for kids as young as 3 years of age to Trip-n-Dips for kids in all grades at specific schools, there are a raft of water activities going on most every day from June to August at both Park District aquatic facilities.
Wet and wacky new events and splash-tastic programs join the Park District's traditional summertime fun line-up this season.  In fact, if one were to start marking the calendar with all the activities taking place at both Swanson Pool and Otter Cove, there would be very few open dates left.  Every Tuesday in June, for example, one could play Pool Bingo at 1pm at Swanson Pool. Even the littlest tadpoles can listen to a children's story read to them by a staff lifeguard during Storytime with the Lifeguard on Saturdays at 4pm. While at Otter Cove, Tuesdays in June at 1pm, play Volleyball with a Lifeguard or on Wednesdays at 5:30pm, see if you can make a gigantic splash at the Cannonball Contest.
The water wildness continues through programs that range from the silly to the sporty, artistic to athletic.  Get ready for an epic party at Otter Cove and celebrate like an islander with beachside fun, stories, songs and games at the event Have a Splash with Moana, Thursday, July 18 from 4-6pm.  Pool decks at both facilities become transformed with talented chalk creations during designated Deck Art Days at both aquatic facilities, and the whole clan can demonstrate their water skills during Family Olympics on August 15 at Swanson Pool.
There are parties — such as July 25th's Christmas in July and Ollie's Birthday Bash celebrating the birthday of Otter Cove's mascot, Ollie on Saturday, July 13 from 12-6 pm – and dances, such as DJ Nights at Swanson Pool beginning Tuesday, July 2 and then continuing on Tuesday nights throughout the month of July. Characters, Mermaids and Pirate costume-theme nights will get you a free treat from The Dive Concessions at both aquatic facilities. And with all that's going on at park district aquatic facilities this summer, no one is going to want to see September come anyway.
For more information about the times, dates and locations for the park district's roster of summer aquatic fun, visit swansonpool.org or ottercove.org.