Fireworks and Family Fun Abound at the Pottawatomie Park 4th of July Celebration in St. Charles!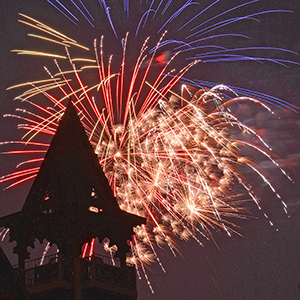 Just as it is impossible to imagine celebrating Christmas without a tree, Halloween without a jack-o-lantern, or Easter without some dyed eggs, the 4th of July just wouldn't be the same without an extravaganza of awe-inducing fireworks.  Luckily, the St. Charles Park District in cooperation with the City of St. Charles hosts what is widely acknowledged as one of the best displays in the region on Thursday, July 4.
When the sun goes down, the night sky lights up with an ooh- and aah-worthy festival of colors, lights and sounds.  Best viewed from the grounds at either Pottawatomie Park or Ferson Creek Park, the fireworks show is free to the public. Although fireworks have been around since 7th century China, seeing them once a year at the July 4th celebration is like seeing them for the first time. Every year it seems they get brighter, flashier and more dazzling than the year before.
But before the boom-and-sizzle of fireworks supply the soundtrack to the 4th of July celebration, the band, Shout Out, will take the stage in the historic pavilion at 6pm until the start of the fireworks extravaganza at dark. Delivering an impassioned show of vibrant, youthful energy and an extensive repertoire of music, you'll feel like you're part of something remarkable. Experience sizzling chemistry, incredible energy and irresistible songs from the latest Top 40 hits to classics that are sure to bring you to your feet.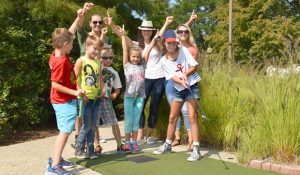 Though the pyrotechnics don't start until dark, Pottawatomie Park opens at dawn for family and friends who want to make a day of it. Picnic tables are available on a first-come/first-served basis, so it is strongly suggested that patrons bring their own tables, blankets and lawn chairs.  And while the 4th of July may be a perfect day for an old-fashioned, home-made picnic, you can also leave the cooking to someone else. Refreshments from hot dogs and bratwurst to popcorn and ice cream are available at the River View Miniature Golf concession stand, which will remain open until 9:15pm that night.
While at Pottawatomie Park awaiting the start of the fireworks, take advantage of all the other fun things to do there.  With over 90 acres, there's plenty to explore, from the native plant demonstration garden to hiking and biking trails. Organize a game of volleyball or baseball on the park's sand lots, or play a round of tennis. Little ones can scramble over the multi-level play area with its tree house, climbing walls and bridges, and covered chutes and slides.
An elaborate, par-42, 18-hole course, River View Miniature Golf features an interactive babbling brook, waterfall, sand traps, windmill, lighthouse, and bridges to challenge golfers, and its picturesque setting amid natural landscape on the banks of the Fox River provides a serene and scenic backdrop. The last tee-off time on July 4 is 7pm and adults 16 and older pay only $6 per 18 holes of golf. The cost for children is $5, and those 5 and younger pay only $3.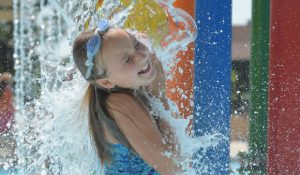 And of course Swanson Pool and Pottawatomie Golf Course are right there, too. The pool will open at 10:30am for park district residents and season pass holders and at 11:30 for non-residents.  The daily admission fee is $7 for residents and $11 for non-residents.  On the 4th of July, the pool will close early, at 6pm. Ranked the 15th-best 9-hole golf course in the country by Golf World magazine, Pottawatomie Golf Course will open at 6am on 4th of July, with the last tee time available at 4pm.  Once the course is cleared of golfers, it is open to the public as one of the best spots from which to view the evening's fireworks.
Fireworks, music, golf, swimming – Pottawatomie Park has everything you need to celebrate our nation's birthday with family and friends.
Visit their website or call 630-513-6200 for more information. 
CHECK OUT MORE SAVE ON FUN COUPONS BELOW!!
FOLLOW US ON FACEBOOK FOR DAILY COUPONS DISCOUNTS & GIVEAWAYS!