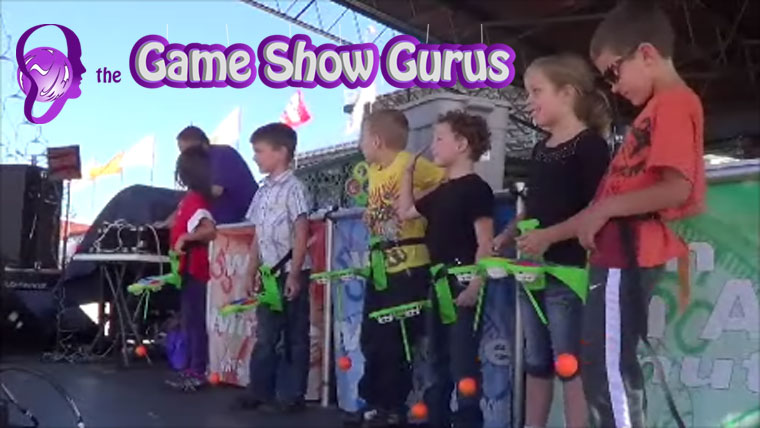 Game Show Gurus Summer Picnics, Fairs or Festivals Game Show Ideas
With summer picnics fast approaching, we have some great games and game shows that you can book from Game Show Gurus. They want to help make your summer event (picnic, company gathering, block party, fair, festival, or venue)  fun and exciting.
If you want your outdoor summer event to be more than just inflatables or you want a personality to be the host of your family or staff event or you want to keep things organized so your staff planners can have fun, look no further. Many of our activities can be scaled or modified to run outside. Also great for summer fairs and festivals.
All games and activities can be targeted towards your staff  or their kids or both. Outdoor events usually have less "Razzle Dazzle" due to budget and environment condition.
Here are some cool ideas.
Mini Trivia Blitz or Interactive Trivia Blitz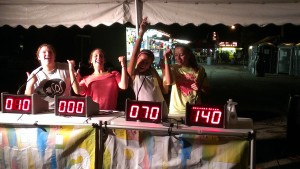 Our standard and original trivia game show. This awesome game runs in the style of Jeopardy. We generally bring four contestant booths complete with flashing lights, bells and whistles, microphones, and digital scoring. Questions are asked and players can "buzz" in if they know the answer. Question material is usually fun at summer picnics but can be customized.  READ MORE…
Versus Game Show (2 or 4 team) or Mini Versus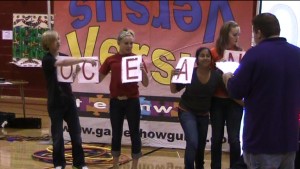 Versus is our signature game show that has our game  team running fast physical challenge and trivia games, most lasting up to two minutes.  Each game uses four to eight participants per team at a time. That means using two teams simultaneously, up to 160 people get to participate in an hour. High energy music is played during each game and in between. 13 similar or different challenges can be played in an hour.   This show is our most popular school assembly game show but has been used for college and corporate events many times as well.   Outdoor version modifies countdown clock and scoring elements. See www.versusgameshow.com or call us for more details.  READ MORE…
Win It In A Minute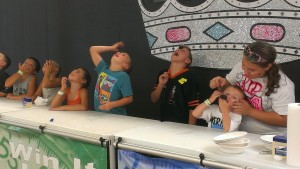 Experience one of the hottest game show programs to hit TV in recent time, modified for eventand stage use. Designed in the style of  TV's Minute To Win It, we create a set of contests that are performed by a group of your guests as a team or individually. Each challenge is accompanied by a personable emcee, energetic music during and between challenges, and high impact excitement. Challenges may be changed during an event to keep it fresh for every show.  We can run this in one of several formats  READ MORE…
Game Master
Many "DJ"s that you get  just don't know how to keep guests involved. Let us run games from our Versus, Win It In a Minute, and general inventory in a random, non game show setting. Game is in our name and Games are what we do.  Our emcee and helpers run as many games as you would like. Common picnic games include Tug O War, Balloon/Egg Toss, Egg Spoon Relay, Hula Hoops, Water Carry Relay, and countless others. We are the game masters.  Music is played during the games. READ MORE…
Trivia Cubes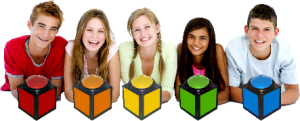 Trivia Cubes are small wireless "hit buttons" that can be placed at your tables.  Instead of having people come up on stage, the entire table can play a version of our Trivia Blitz game show from their seats.  The emcee then runs to the table to get their answer. Up to 20 buttons can be provided. Those buttons can be mapped to any number of teams.  General software shows a leaderboard. We also have Trivia Ladder and Trivia Board versions. Video is displayed on LED monitors under your tent.  Based on the same software, we also have Clobber, in which the lockout buttons consist of a helmet and a swimming noodle — hilarious.  READ MORE…
Guess The Price – Outdoor Modification
Our modified game show loosely designed in the style of Price is Righ". Two teams are brought up on "stage".  Items are shown on video displays.  The people closest to pricing the items correctly get to play quick games of chance such as our Mini Plinko or Wheel of a Deal game.  The winners of these rounds usually get a prize. This process repeats as needed. Items to price can be anything and are targeted towards the audience.  READ MORE…
Survey Says – Outdoor Modification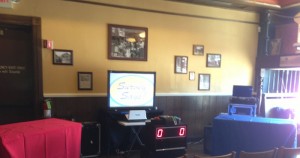 Everyone loves our standard game show. Designed in the style of "Family Feud", we have two teams guess the answers to "surveys" about subjective material.  Complete with a Face Off Podium (that can be used for Face Off Trivia afterwards).  Outdoor version uses outdoor quality LED video screens and reduced razzle dazzle / sets. Picture shows our scaled down "Mini Survey Says" used for a kids party.  READ MORE…
Q&A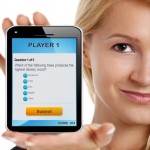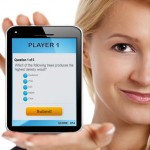 Our wireless game show with audience response keypads utilizes your guests cell phones and tablets as displays and lockout buttons. Trivia questions are displayed and your guests answer using their devices. A leader board is displayed on a video displays.  Players can play individually or as a group or team.  Trivia can be programmed easy or difficult. Material can be either multiple choice or single answer.  Can even be used with our "Clobber" – hit your neighbor on head with a swimming noodle.  READ MORE…
Extreme Bingo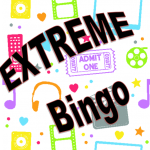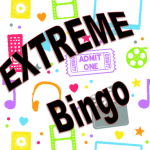 Throw out that boring bingo. We customize our bingo boards with anything – trivia, words, people's names, pictures, music, pictures, or music videos.  When you get the designated pattern (such as five in a row), you win.  Regular BINGO also available with our video call board.  Each participant has a custom bingo board consisting of the names of one of one hundred twenty videos that might be played.  READ MORE…