National Event Services
National Event Services is the Chicago area leader in Temporary Fence Rentals, Portable Toilets, Hand Wash Stations and Mobile Storage Containers. With over 50 locations coast-to-coast and more than 50 years experience working with concert promoters, festivals organizers, air shows, sporting events, marathons, golf tournaments, and party planners …take your next event to a higher level with National Event Services today!
Rent-A-Fence
Event security that never needs a coffee break. For in-ground posts, panels with stands, and other custom configurations, let the nation's leading provider of temporary fence solutions make your next event a success!  With additional options including pedestrian and vehicle swing and slide gates, privacy screen, and various security features, each will benefit in rounding out your event planning needs.
Pedestrian Barricades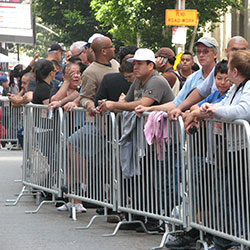 Ease of use for corralling vehicle and foot traffic. Pedestrian barricades are a great strategic "must have" for any large event.
From directing large crowds to diverting vehicle traffic, National's barricades are light weight, interlocking for added stability, and easy to transport and reposition as event demands vary from day to day.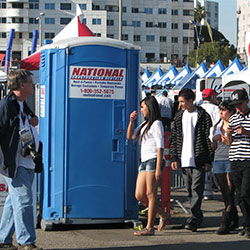 Portable Restrooms
Clean.  Reliable.  Portable.  What a relief! National's full line of restrooms, holding tanks and other specialty items are among the newest and cleanest in the industry.  Standard options include foot-operated fresh water sinks, disposable seat covers, paper towel dispensers and interior lighting.

Hand Wash Stations
Where there are crowds, there are many hands needing a good scrubbing!
Hands-free fresh water configurations will make your next event complaint and trouble free.  Foot operated fresh water systems will keep hands clean and your event guests returning for a second helping of funnel cake.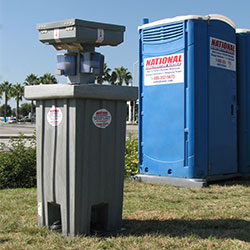 Let National Event Services to be your total solution for temporary fence, barricades, portable restrooms and more.  Call 800-352-5675 or visit rentnational.com today.