RobotCity Workshop Summer Camps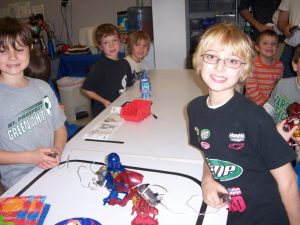 Build Robots with us this Summer at Robot City Workshop!
Discover the fascinating world of robots as you build your own creations while learning the science fundamentals behind their operation and design. Camps are led by seasoned instructors that take the time to develop your child's natural curiosity and talents as they guide them from class topics to hands on assembly.
Students will learn basic mechanics, electric circuits, electronics and programming as they participate in various workshop activities and work towards building their own robot(s) which they get to take home and keep!
Robot City Workshop is an electric storefront attraction grounded in education and entertainment for kids, robot enthusiasts, hobbyists and those simply interested in learning how to build, repair or program. We offer fun workshops for all ages, awesome DIY robotics kits, ready-built robots, and more.
Camps will be held in locations across Chicago and suburbs and will be offered in a morning session (9am – 12pm) and an afternoon session (1pm – 4pm). Full day sessions are also available.
For more information or to register, please visit us at www.robotcityworkshop.com/camps or call (773)281-1008.
FUN COUPONS BELOW!!
FOLLOW US ON FACEBOOK FOR DAILY COUPONS DISCOUNTS & GIVEAWAYS!