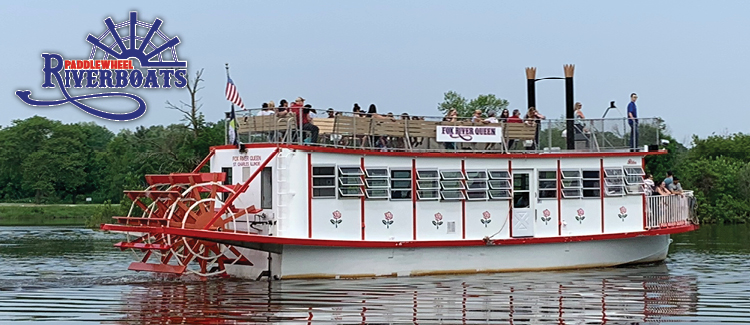 Roll Down the River and Back in Time on St. Charles Paddlewheel Riverboats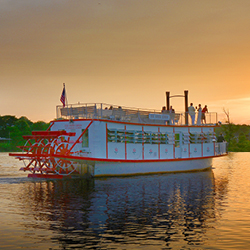 There is perhaps no more iconic image for a Midwestern river town than that of a stately paddlewheel boat plying its waters.  In the 19th century, such sights were common; the boats carried travelers and tourists, adventurers and, of course, gamblers to new experiences and new lives.  Today, any river town lucky enough to still have such a symbol of American mobility has a trove of history in its midst, a way to bridge the 19th and 21st centuries and recapture times gone by before they are times lost forever.
St. Charles is one such fortunate town, thanks to the Anderson family who has piloted paddlewheel riverboats up the Fox River since 1945.  Rich Anderson and his wife, Betsy, are the current owners and operators of Anderson Enterprises, Inc., a company that was started by Rich's father, Chet.  Today, the Andersons provide daily sightseeing excursions on the Fox River as one of the concession amenities available at Pottawatomie Park as well as making the boats available for private charters to larger groups such as civic organizations, family reunions, business functions or wedding receptions.  The private charters can take advantage of catering provided by Andersons or arrange for their own food on board.
Designed for sightseeing and relaxation, the paddlewheel riverboats operate from May through mid-October.   Open-air upper decks are ideal for unobstructed sightseeing, while enclosed lower levels provide respite in case of cool or rainy weather.
A typical outing will last about an hour, and travel upriver for about 2 miles.  Along the way, Anderson will point out local attractions such as Pottawatomie Golf Course, Norris Woods, and Ferson Creek Fen.  His narration sparkles with arcane facts about the area's history dating back to the Native American Fox and Pottawatomie tribes and early St. Charles settlers such as lawyer Steven Sandborn Jones.
Reviving old memories and creating new ones goes hand-in-hand with the sightseeing cruises.  For newcomers to the area, there is no better way to become immersed in the area's heritage and gain a unique perspective of its natural beauty.
"People are surprised at how pretty this section of the river is," said Anderson.  "It's an entirely different view than what you see if you're traveling past on Route 25, for instance."
For more information about the St. Charles paddlewheel riverboats, call 630-584-2334 or visit their web site at

www.stcriverboats.com

.
CHECK OUT MORE SAVE ON FUN COUPONS BELOW!!
FOLLOW US ON FACEBOOK FOR DAILY COUPONS DISCOUNTS & GIVEAWAYS!