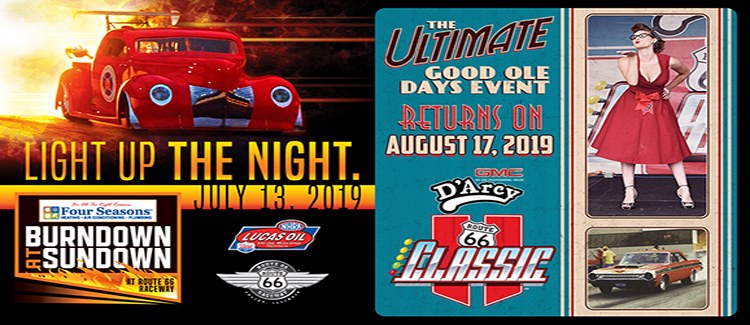 Route 66 Raceway's Most Explosive Event! Four Seasons Burndown at Sundown July 13th!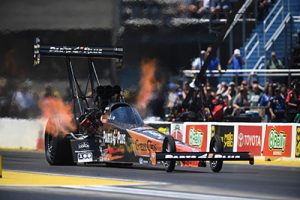 Route 66 Raceway in Joliet Illinois is The World's Premier Drag Racing Facility, founded in 1998. Route 66 Raceway is a motorsports facility that has something for everyone. Kid's, ages 12 and younger, are FREE to over 6 events! The Quarter-Mile Drag Strip hosts several major drag racing events, including O'Reilly Auto Parts Route 66 NHRA Nationals. The Half-Mile Clay Oval features racing Team Demolition Derbies and Traxxas TORC Series.
Gear up for Route 66 Raceway's Most Explosive Event! It's our Four Seasons Burndown at Sundown! Over FIVE HUNDRED race cars, 250-mph dragsters and funny cars, jet cars and wheel standers on the track. Off the track, we heat it all up, too! Outside the grandstands, the pits are open to the public, where you can see all the cars up-close and personal.
In 2019, you'll witness even more pyro, with an all-new fire show and some surprises in store once the sun goes down! Add in a Beer Garden, Live Rock Show, Carnival Games and a Fireworks Finale, there's something for everyone.
GATES OPEN FOR THE BURNDOWN: Saturday, July 13 at 8 AM at Gate 11 off Route 53 (Historic Route 66). Get your tickets TODAY!
Route 66 Raceway welcomes the return of the D'Arcy Buick GMC Route 66 Classic on August 17, 2019.
While in its eighth year, the event has recently been re-imagined and loaded with an unprecedented level of content that will not only pay homage to early drag racing and hot rod culture but will present a quarter-mile blast down memory lane for any historical enthusiast.
Fans will leave the 21st century when they enter the gates and be propelled into the era of poodle skirts, pin-up girls, sock hops and more.
Visit Their Website For More Information and tickets or call 815-722-5500.
CHECK OUT MORE SAVE ON FUN COUPONS BELOW!!
FOLLOW US ON FACEBOOK FOR DAILY COUPONS DISCOUNTS & GIVEAWAYS!