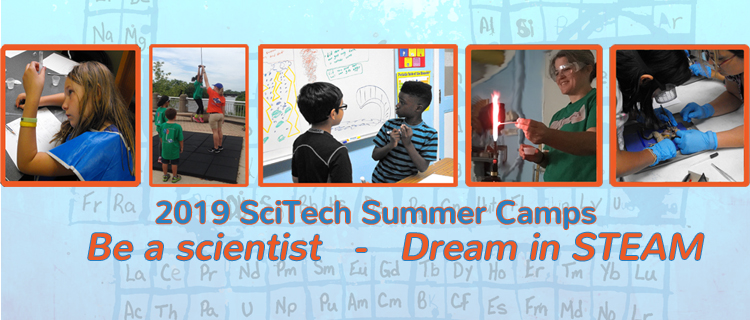 SciTech Summer Adventure Camps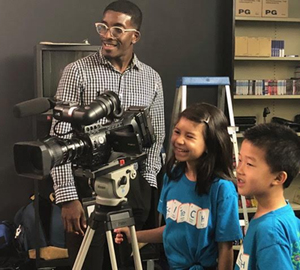 Imagine, Explore and Discover the amazing world of STEAM this summer!
Registration is now open! Children are born with marvelous imaginations and a keen desire to explore the world. They are eager to observe and make "what if" discoveries about their world. This summer, encourage your child to observe the world and to be a scientist. SciTech Summer Camps teach people to "Dream in STEAM."
Campers are grouped by grade levels: Age 3-Kindergarten Grades 1-2 Grades 3-5 Grades 6-8
Elementary and junior high camps are five days a week with two camp sessions each day: morning sessions are 9am-12pm and afternoon sessions are 1-4pm. Campers enrolled in both sessions have a supervised lunch period from 12-1pm. All camp will explore the same topics through a variety of Hands On activities and challenges appropriate for the grade level.
SciTech offers camps for younger scientists, too! Children as young as 3 years old can enjoy a SciTech Nano Camp! Take a look at the Nano SciTech Summer Camp, designed specifically for PreK – K.
About our theme: This year celebrates the 150th anniversary of the modern layout of the periodic table! Dmitri Mendeleev was a chemist who created a farsighted version of the periodic table of elements in 1869. Working with only 63 known elements, Mendeleev was certain there was a pattern. He had written the atomic weights of the elements down on cards and tried rearranging them to determine how they were related. One night, he fell asleep at the table and dreamed. "I saw in a dream a table where all the elements fell into place as required. Awakening, I immediately wrote it down on a piece of paper." More than 40 elemental discoveries have been made since Mendeleev's original table was created, all supporting the theories put forth 150 years ago!
For more information or to register, visit www.scitechmuseum.org/camps or call (630) 859-3434, ext 236.
CHECK OUT MORE SAVE ON FUN COUPONS BELOW!!
FOLLOW US ON FACEBOOK FOR DAILY COUPONS DISCOUNTS & GIVEAWAYS!