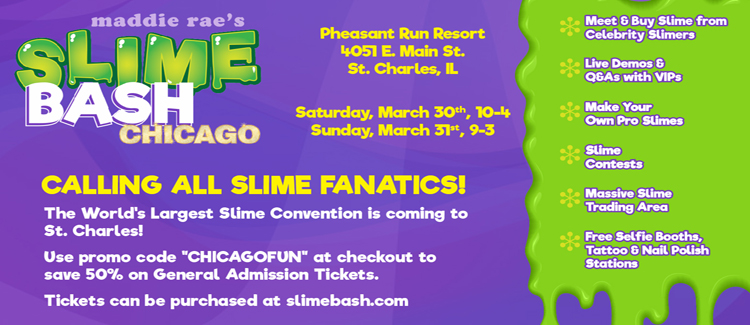 Slime Bash Chicago Discount Tickets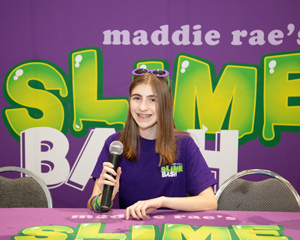 The World's Largest Slime Convention is headed to St Charles March 30-31st!
Save 50% off 2 Day Pass by using promo code CHICAGOFUN
Join us at Maddie Rae's Slime Bash Chicago! It's a fun family event filled with "all things slime!"
Come to the Pheasant Run Resort and meet your favorite slime celebs, buy & trade slime, enter a variety of slime contests, and watch live slime demos!
Location:  Pheasant Run Mega Center & Ballroom
Dates:  Match 30-31, 2019
Times:  Saturday 10am – 4pm  Sunday 9am – 3pm
Use promo code CHICAGOFUN for 50% off 2 Day Pass!

For more information visit Slimebash.com
Event Features:

VIP Section: Meet, take pictures with and purchase slime & merch from 30 of the hottest slime influencers on Instagram and YouTube all in one place.
Slimer Alley: Meet, purchase and trade slime with 50 of the best up and coming slimers.
Make Your Own Slime Pits: Purchase tokens to make professional slime on-site.
Trading Arena: Ticket holders can trade slime and other goodies with other attendees and participants.
Live Slime Demo's, Q&A sessions, Trivia, and Slime Giveaways on stage from VIPs throughout the day on Saturday & Sunday.
Slime Making Competition: Enter your slime to win big prizes and trophies.
Slime Acrobatics Contest: Show off your slime flipping and other tricks to win trophies and prizes.
Slime Speed Making Pits: Continuous speed slime making speed rounds for prizes.
Enjoy our three Selfie Booths with fun slime props.
Free Maddie Rae Tattoo Stations.
Make your mark on our Great Wall of Slime! Add your own slime to a giant wall of slime- the outcome is a beautiful "slime painting!"
Maddie Rae's "Pop Up Shop:" purchase newly released slime products and a Limited Edition, VIP Commemorative Poster!