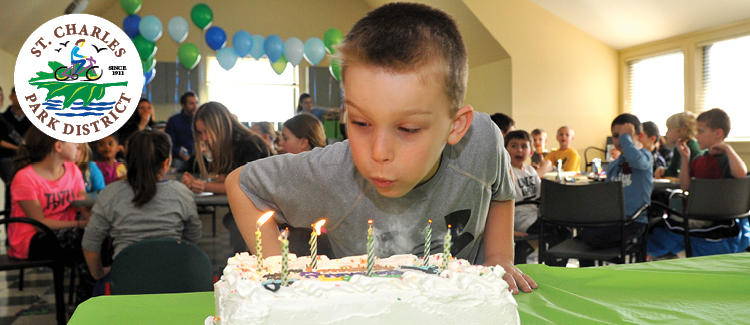 Party On! St. Charles Park District Facilities Make Getting Older a Blast
Party On!  Park District Facilities Make Getting Older a Blast
If the key to success in real estate can be boiled down to three things – location! location! location! – then the same holds true for birthday parties as well.  And with several unique locations to choose from, the St. Charles Park District's birthday party packages mean there's a party theme and venue sure to make any child's birthday dreams come true.
Leave the boring party hat behind and dress up in your best overalls, boots and bandanas for a Barnyard Bash party at Primrose Farm that includes a guided tour to meet all the farm animals and a tractor-drawn hayride (additional fee).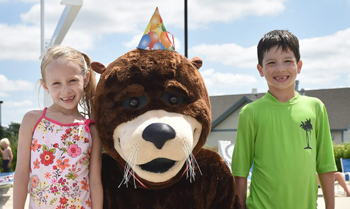 Critter-terrific themes are offered at Hickory Knolls Discovery Center, where kids can explore the world outside their windows and beneath their feet while treating their friends to a fun day in the great outdoors (weather permitting, of course.) Choose the prehistoric fun of a Dino Dig party, indulge your creepy-crawly fascination with a Reptile Extravaganza, or take an adventure during the Critter Explorers party.
And the sky's the limit when it comes to themes for birthday parties held at the Pottawatomie Community Center — everything from Princess Parties and Superhero Parties to Science Parties and Cupcake Parties.  Crafty birthday boys and girls will love the Stuff 'n Fluff and Lego Parties, while active athletes will go for the Ultimate Sports or Nerf Parties.
More Sports of all Sorts Parties are available at the new Sportsplex with indoor turf fields. Choose football, soccer, lacrosse, baseball and more. For those who like to putt-putt, River View Miniature Golf Course offers party packages, too.
Although specific details may vary depending upon location, in general the standard party packages include a 90-minute celebration led by a party host, reserved tables and seating, set-up and clean-up. And getting your guests to your party is both easy and eco-friendly!  Free downloadable party invitations can be personalized by the party host and then sent either via email or printed and mailed at their cost.
For more information about birthday party packages, call 630-513-6200 or visit the birthday party page on the District's website: stcparks.org.
CHECK OUT MORE SAVE ON FUN COUPONS BELOW!!
FOLLOW US ON FACEBOOK FOR DAILY COUPONS DISCOUNTS & GIVEAWAYS!