St Charles Park District Virtual and Outdoor Fitness Classes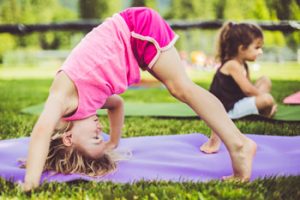 Both Virtual and Outdoor Fitness Classes Offered
Discover the physical and mental benefits of fitness whether you're working out at home or in a small setting outside in the fresh air.
A Virtual Family Yoga series, available to parents, grandparents, caregivers and kids of all ages, offers an opportunity to connect through fun activities, teamwork exercises and breathing techniques. It's a great way to enjoy time together.
ChildBlossom Virtual Family Yoga will run on Tuesdays, June 9-30, from 6-6:30 p.m. Fee per family is $40 for residents and $60 for nonresidents. These classes are open for families with children from ages 3 through teens.
For adults, additional virtual fitness programs are available. Mornings & Mindfulness focus on living in the moment. Restorative Yoga is all about rejuvenation and relaxation. For more virtual class opportunities, visit https://www.stcparks.org/eactivities/
In June, the Park District is taking its popular children's ChildBlossom yoga class in a new outdoor setting, combining the tremendous health benefits of yoga with the fresh air, sunshine and fun games. Enjoying yoga while surrounded in the beauty of nature is an added bonus. Nature Yoga will be held in Pottawatomie Park on Tuesdays, June 9-July 21, from 10:15 to 11 a.m. Fee is $74 for residents and $110 for nonresidents.
The District is also offering outdoor Zumba, a Tabata Bootcamp, both for adults, and a Bootcamp for ages 50+. Every day, more fitness opportunities are being added. For updates, visit https://www.stcparks.org/summer-onsite/
Class sizes are limited and advance registration is required. For more information, call 630-513-6200.