Super Halloween Fun at Enchanted Castle!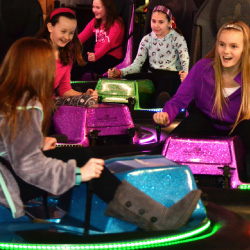 Enchanted Castle Super-Sizes fun for everyone this October!
 Castle After Dark – Exclusive Adults (21+) Only Event
Thursday, October 24 from 7:30PM – Midnight
A Night of Boos & Booze!
Adults receive $20 in Game Play, UNLIMITED Go Karts, Laser Tag, Bumper Cars, Miniature Golf, Catapult Rides, DJ and Karaoke.  Adult beverages and food specials available! 
Gov't photo I.D. required to buy alcohol.
 HALLOWEEN COSTUME CONTEST!  (Optional…but chance to win great prizes!)
$25 Advance tickets available online at EVENTBRITE.COM.  (Tickets $35 at the door.)
Super Halloween Bash
Friday, October 25 from 7-10 PM
Have a SUPER good time at the Enchanted Castle's Halloween party. TWO super heroes will be hosting this year's party. Each guest receives  $10 in Game Play, UNLIMITED Catapult Rides, Bumper Cars & Quest II Kids Playland, a "Monster" slice of pizza and pop, Super Heroes Meet and Greet, plus costume parade, raffle prize entry, "Trick or Treat" candy stations and a grand Halloween Balloon Drop Finale!
Only $16.95/guest, plus tax (adults and kids).
Looking for added thrills? Upgrade to the Premium UNLIMITED Wristband and get UNLIMITED Go-Karts, Laser Tag and Miniature Golf for just $10 more. Valid for 2 hours on Oct. 25th only.  Seating is limited! Reservations required.
Call 630-953-7860 X 100 or register online at Enchanted.com/specials
R.I.P. UNLIMITED FUN Package is back – Weekends in October!
Looking for UNLIMITED Fun this Halloween season? This package is to die for! The R.I.P. package includes: $10 in Game Play plus UNLIMITED Go Karts, Laser Tag, Miniature Golf, Bumper Cars and Catapult Rides for 3 hours of never-ending fun! Available on Columbus Day (Monday, Oct. 14th) plus weekends throughout October: Fridays (after 4 pm), Saturdays and Sundays. Adult beverages and food specials also available.
$29.95/guest (Fridays after 4 pm & Saturday/Sunday)
$24.95/guest (Columbus Day) 
The more you PLAY! The more you SAVE!
HAPPY HALLOWEEN!
Join us "My Pretties" on Halloween (Thursday, Oct. 31st) for bewitching Fun with:
Half-Price Games All Day!
UNLIMITED Rides & Attractions* for $22/guest! (Available after 4 pm.)
$2 One-Topping Pizza Slices
FREE "Trick or Treat" Candy Stations for those in costume!
Stage Games and Prizes
*3 Hr. UNLIMITED Attractions Wristband valid on Thursday, Oct. 31st only. See website for details. Height and safety restrictions apply. Offer subject to change without notice.
For more information, visit www.enchanted.com or call 630-953-7860 X 100.