The Comedy Shrine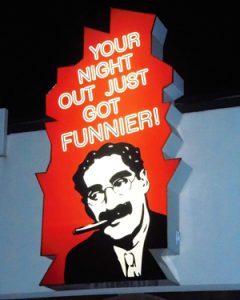 Welcome to the Comedy Shrine, Chicagoland's Premier Improv & Stand up Comedy Theater! Each week we bring some of the top comedic performers from around the country right to the suburbs of Chicago. Using our two theaters to showcase both Improv and Standup Comedy every Friday and Saturday. Our lounge area provides a fully-stocked bar serving beer, wine, liquor, soft drinks, & snacks.
Whether you're here to watch improv or stand-up, you're in for a great time! Come early and enjoy a drink and the thousands of pieces of comedy memorabilia that puts the "shrine" in The Comedy Shrine.
The Comedy Shrine is Aurora's only Comedy Club offering both Improv and Stand-up Shows. We also offer comedy classes for adults, kids, and teens, and we host special events, corporate functions, fundraisers, and provide theater rental! Interested in classes? We have those too! You are never too old or too young to try your hand at comedy.
Birthday Parties
Celebrating your birthday at the same old bar can get old. Throwing a party at your house leaves a mess that you won't want to clean up.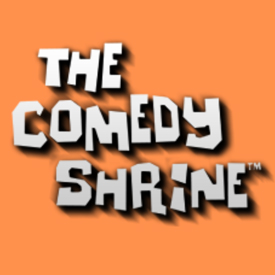 They won't let you into Chuck E Cheese anymore even though the ball pit is cool. The Comedy Shrine has a way for you to laugh your way through turning a year older. And if laughing isn't enough to make you forget you're getting older, we have a full bar and friendly wait staff to serve you throughout the shows. If you're looking for a fun, different way to celebrate a birthday, we offer a variety of Comedy Shows to fit any birthday need.
Bachelorette & Bachelor Party
The Comedy Shrine offers a unique, fun environment that is perfect for anyone looking to have bachelorette/bachelor party to remember. You can go to a bar and drink any night, so have your party here for a night full of laughter, memories, and a few delicious drinks. Walk through our massive collection of comedy memorabilia before you walk down the aisle. We have a great lineup of Shows to fit your bachelorette party needs.
Call the Box Office at 630-585-0300 or visit their website for more information! We're located at 4034 Fox Valley Center Drive in Aurora, IL.