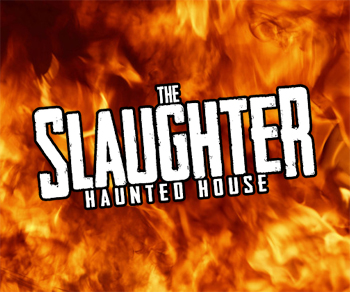 Save $5.00 Off Admission to The Slaughter Haunted House in West Dundee Illinois.
The Slaughter Haunted House is a massive Halloween Destination, featuring the scariest haunted houses in Illinois and Wisconsin.  Three incredible attractions, one giant location located near 31 and 72 in the old Target building in West Dundee.
This is an incredible and interactive Haunted House, featuring live actors – Theme Park Quality Sets and Jaw Dropping Special Effects.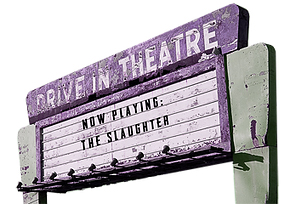 Drive-Inn Theatre
Situated just on the other side of the town Cemetery is a nostalgic old Drive-in Theatre. What happened at that Drive-In will forever remain a macabre horror story. While you wait to start your tour, witness the grotesque horror that took place at the Drive-in : Explore the gore and encounter one of the most unique waiting areas ever! Watch horror movies on the Big Screen, Get a Drink or Snack at the Concession Stand… and be on the look out… read more…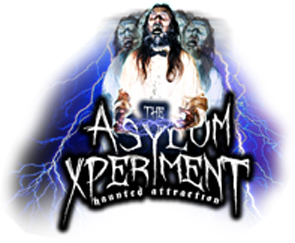 The Asylum Experiment
The Return of a Legend.  Headless Horseman Paranormal Squad has set up shop in the heart of Hamilton Manor. In 1974, after the fabled Dr. Stuart Hamilton went missing: it was revealed that the owner of the Incredible Mansion was torturing people in the basement of his historic home in what he called his "Asylum Xperiment." For years the massive home has sat vacant, aside from its crazed…read more…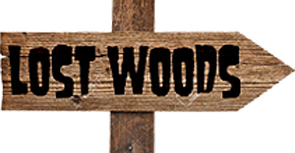 The Lost Woods
Hope you arent afraid of the Dark.
In your attempt to flee the Horror within the Asylum Xperiment, do not get lost in the woods – you never know who…or what… could be waiting in the blood curdling darkness…read more...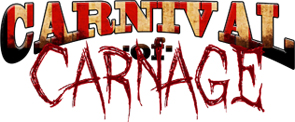 Carnival Of Carnage
Deep within the woods lies a dark and horrible circus.  Carnies, Clowns and Freaks alike run this terrible place, capturing and torturing those who stumble upon their hidden retreat.  Work your way through a terrifying labrynth, created by these freaks in an effort to guarantee you will never leave.  Can you escape this Dark…read more…
Join our private Facebook Group Chicago Fun Coupons and start receiving exclusive discounts, coupons and deals in your newsfeed. This a great place to find and share info related to saving money on fun things to do, party planning services, travel and other activities.  Join Today!