Downers Grove Museum Campus Downers Grove, IL
The mission of the Downers Grove Museum is to provide educational and leisure opportunities for the community by collecting, preserving, exhibiting and interpreting materials that explain and document the history of Downers Grove.
Free Admission! Open for self-guided tours: Tuesdays, Wednesdays, Thursdays: 12-4PM; 4th Saturday of the month: 10AM – 1PM
1846 BLODGETT HOUSE
The 1846 Blodgett House was built by Israel and Avis Blodgett in 1846 and is one of the oldest houses in Downers Grove. Recently opened to the public, the exhibits focuses on the Blodgett family and their involvement in the nationally significant Underground Railroad.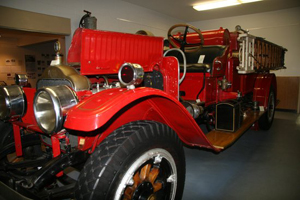 MONTREW DUNHAM HISTORY CENTER
Montrew Dunham History Center (the big red barn) is home to our temporary exhibits as well as a permanent exhibit celebrating the history of the Downers Grove Fire Department, including their 1920's original fire engine.

VICTORIAN BLODGETT HOUSE
The Victorian Blodgett house was the home of Israel and Avis's youngest son, Charles, and was built in 1892. The permanent exhibits in the Victorian Blodgett house illustrate life in Downers Grove in the 1890's. The house also contains the offices of Museum staff, archives, collection storage and a research library.
Downers Grove Museum
831 Maple Ave.
Downers Grove, Illinois 60515
630.963.1309


Visit their Website