River View Miniature Golf Course Daily Specials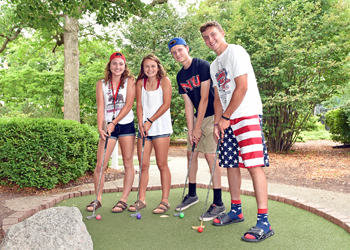 Daily Mini Golf Specials Max Out Summer Fun

Every day is special at River View Miniature Golf Course, thanks to daily Putt-n-Save discounts and deals.  Mondays and Tuesdays are Wooden Nickel days, when each round of miniature golf purchased earns a chance to grab a Wooden Nickel from the pro shop's prize board.  Redeemable for prizes such as a free round of mini golf or a treat from the refreshment stand, Wooden Nickels never grow old.
Wednesdays should be re-named Wet Days in honor of River View's riverside activities.  There is no better way to explore the scenic Fox River than by renting a pedal boat or kayak. And at only $12 an hour on Wednesdays, this $5 financial savings can float many a fine summer afternoon. US Coast Guard-approved life vests are required for all riders, and can be obtained at the Pro Shop.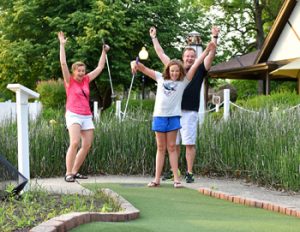 Thursdays, Fridays and Saturdays are all about family! Grandparents play for free with the regular paid admission of a grandchild on Thursdays – a nice turn of events for Nana and Pop-Pop for a change!  Friday nights, the whole family can sweeten up the fun with a free ice cream treat from the refreshment stand with every regular price admission.  And that great tradition of Saturday Night Date Night continues with special pricing on a round of golf.  Whether you're current high school sweethearts or Silver Anniversary celebrants, the combination of the tranquil river, beautifully landscaped grounds and the chance for bragging rights on an elusive hole-in-one can make for a memorable evening.
And when it comes to making memories, Minigolf PARties are great ways to get the gang together, whether it's celebrating a child's birthday, family reunion, corporate outing or just rounding up your best pals for a Putt-n-Picnic event.  Designed for groups of 10 or more players, the PARties can easily be pulled together through the park district's online party invitation function. At just $6 per person, the PARties include a round of 18 holes, online invitations, a souvenir miniature golf ball for the guest of honor and the choice of a River View t-shirt or championship trophy to be used as the host sees fit.
For days and hours of operation for River View Miniature Golf Visit Their Website Or Call 630-584-1028.
CHECK OUT MORE SAVE ON FUN COUPONS BELOW!!
FOLLOW US ON FACEBOOK FOR DAILY COUPONS DISCOUNTS & GIVEAWAYS!