iPanic Escape Room Coupon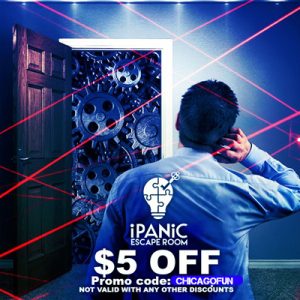 This iPanic Escape Room Discount Tickets coupon is good for $5 off per person for your booking!
To redeem coupon: visit our website www.iPanicEscapeRoom.com and click on the booking tab. Once there you will be able to select the day and time you would like to book! When you get to checkout type in ChicagoFun in the promotional code area and you will then save $5 off per person!
Get locked in one of our escape rooms with one goal: ESCAPE  before time runs out! Immerse yourself in our state of the art rooms. Groups of 2-12 must work together to escape by finding clues, solving puzzles, and using cutting edge mechanical props. Are you up for the challenge, or will you panic?
EXPERIENCE A TEAM BUILDING EVENT LIKE NEVER BEFORE!
Our rooms seek to foster essential skills n ecessary for a successful workplace; communication, collaboration, critical thinking, and creativity. Call today to book your Corporate Events, Birthdays, Grad and Bachelor Parties, Reunions, and more! With SIX NEW ROOMS to choose from, iPanic Escape Rooms can accommodate groups of all sizes!
Visit our NEW LOCATION!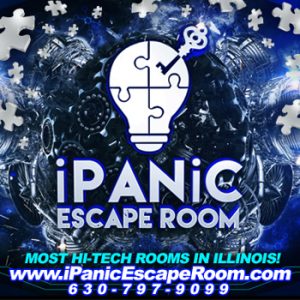 1519 E Main St Suite 900
St Charles, IL 60174​​​​​​​​Pheasant Run Resort​
4051 E Main St, St Charles, IL 60174 
1519 E. Main street St. Charles location has all new rooms!
Illinois first ever Dueling Room! This is a team v.s. team saloon themed game! We are also have Illinois first ever MOVING ROOM called the legend awaits. //Also featuring Alien Encounter // Ultimate Heist // Witching Hour// **iPanic has the most high tech and now has the largest amount of rooms to play in Illinois! Find clues // Solve Puzzles // ESCAPE!**