Save 50% off a weekend admission pass to this year's Chicagoland Entertainment Collectors Expo in Carol Stream, Illinois.
Featuring approx. 40 tables of artists, and exhibitors from the Midwest area, displaying original artwork, art prints, comic books, toys, non-sport trading cards, movie items, autographs, fully functional, life-sized robots, & more.
FREE Goodies & prizes for ALL the attending children, while supplies last.
Children can attend a safe trick or treat experience among all of the exhibitors, feel free to come dressed in your favorite costume! There will be prizes for the best costume among the different age groups. Surprise entertainment may also be present, pending availability.
Show Information:
Friday, Sept 11th 2pm- 7pm
Saturday, Sept 12th 9am-3pm
Holiday Inn & Suites 150 S. Gary Ave. Carol Stream, IL.
Admission $ 6.00 daily or $ 10.00/ weekend
Charity Breakfast Saturday 7:30am-8:30am $ 19.00 per person, advance sales,
Visit our website for further info:  www.chicagolandexpo.com
Paul (708) 430 8107
cecexpo@gmail.com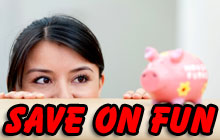 Join our Private Facebook Group Chicago Fun Coupons and start receiving exclusive discounts, coupons and deals in your newsfeed. This is a great place to find and share info related to saving money on fun things to do, party planning services, special events, travel and other activities.