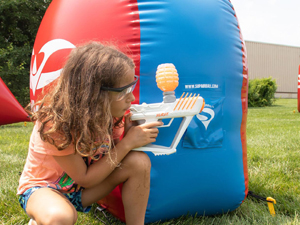 GellyBall is the latest mobile party attraction! The Fun Ones has teamed up with GellyBall to deliver a fun and safe alternative to airsoft and paintball. Let The Fun Ones transform your yard, local park or any indoor or outdoor location into an awesome GellyBall arena!  Serving Chicago, Northwest Indiana and all Chicago area Suburbs.
Click Here to Save $25-$100 Off rental orders from The Fun Ones
GellyBall Blasters shoot a soft gel ball, much like an Orbeez that your kids probably already play with! Shot from easy-to-use Blasters, the soft GellyBalls bounce off kids or simply disintegrate, leaving no stain, mess or sting.
Book a Gellyball Party Today!  Convert virtually any space into a thrilling GellyBall combat arena.  We offer a range of obstacles in different shapes and sizes for a variety of strategic cover.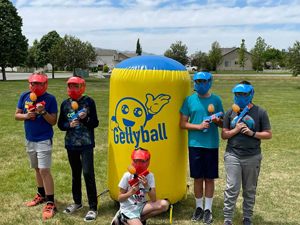 GellyBall Birthday Parties are the perfect way to celebrate your child's birthday party.
Group / Church Events are perfect for Mobile GellyBall. Planning an event for youth groups, sports teams, scouts, or any other group event?  The Fun Ones provides all the blasters, ammo, and safety gear to turn your yard or park into a GellyBall arena.
GellyBall is great for team building and leadership development. Whether your company needs to just let off some steam or whether you are looking to do some serious team building or leadership development, outdoor GellyBall can fulfill those needs.
Call The Fun Ones for pricing and more information:
The Fun Ones Inc.
3755 Swenson Ave.
St. Charles, IL 60174
630-495-3200
www.thefunones.com