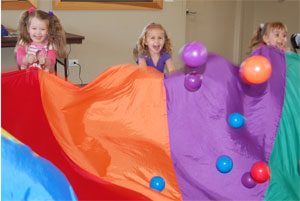 Rock 'n' Kids
Rock 'n' Kids is proud to have provided the Tot Rock and Kid Rock programs since 1995! All of the components of a Rock 'n' Kids class or party work together to achieve the overall goal:
"To provide a fun and educational environment for young children to learn about themselves and the world around them through music."
Important Information
We are currently accepting enrollment for our new classes: in-person Tot Rock and Kid Rock, and virtual Rockin' at Home! Our in-person classes have been adapted with everyone's health and safety as our priority! Our virtual classes allow for participation at your convenience! Rock 'n' Kids provides movement and imagination classes with music to 1-6 year olds. Locations are available throughout Chicago Land.
Subscribe to our  YouTube channel and  Like us on Facebook to keep up with our rockin' news! For more information, visit www.rockitkids.com email us at rockitkids@comcast.net or call us at 847-961-6584. Have a musical day!
#1 Kid Rock/Tot Rock "Opposites "
#3 Kid Rock/Tot Rock "Away We Go!"
#4 Kid Rock/Tot Rock "Learning Rocks"
Spring! What a Beautiful Thing!
Rock 'n' Kids is Corona Conscious!