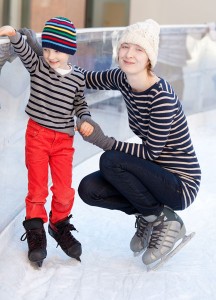 Snow Plow Sam classes are filled with fun, games and ice-safe toys to help preschool-aged children learn basic skills of proper falling down and getting up techniques, marching, gliding and forward swizzles.
Youth and adult classes develop the basics of figure skating, both forward and back movements, and balance techniques. Participants will practice falling, getting up, marching, foot glides, forward swizzles, backward wiggles and beginning snowplow stops. At an individual's pace, progress will be made toward one-foot glides, two-foot turns, forward slaloms and beginning two-foot spins.
There's also ice hockey classes for those who wish to maneuver a little faster and enjoy some competition.  Students will learn proper sports skating techniques and develop successful game situations. Required equipment: hockey skates, gloves and certified hockey helmet (ice approved). Pucks will not be used.
Classes are held on Tuesday and Thursday evenings or Saturday mornings. For specific program details, visit the St. Charles Park District's website at stcparks.org.
Mittens or gloves and bike helmet are recommended. Skate rental is $2/class. You may bring your own skates. All classes include a free skate on day of lesson when available. Missed classes can be made up anytime within the session depending on class availability.
  For all Skate School programs, you must register with both the St. Charles Park District and Fox Valley Ice Arena's Skate School. First, register with payment to the Park District. Second, register with the Skate School via their website at www.fvia.us to set up an account, pay an $18 annual skills registration fee and sign the waiver prior to class.
 For more information, contact Recreation Supervisor Rosie Fasching at 630-513-4334.