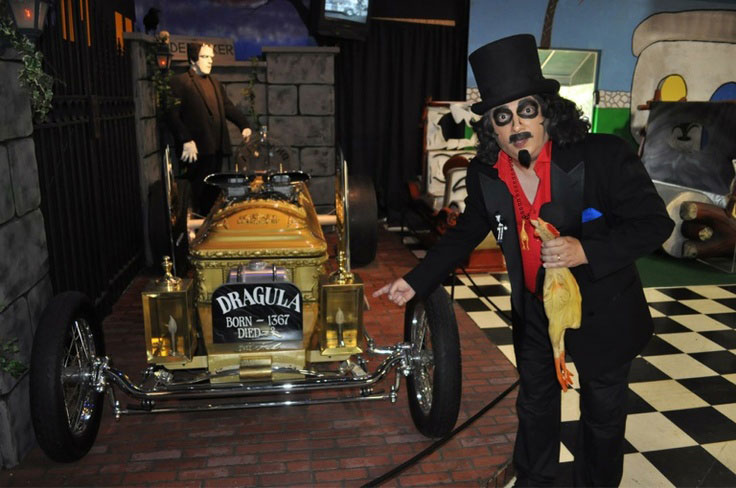 Join Volo Museum on October 29th and meet Svengoolie, Chicago's very own Horror Host.
Here is your chance for a meet and greet with the iconic Svengoolie! Included with the price of admission, you are able to meet Svengoolie and get a professional picture taken at no extra cost! 
The event runs from 1-3pm. Get there early. Svengoolie has been the premier horror show icon of Chicago, since multiple Emmy award winner Rich Koz became the hand-picked successor to the original Svengoolie back in the late '70s. He has appeared on a national basis on MeTV since April 2011 – and generations of viewers have become fans of the monstrous mirth and movies that this video vampire dispenses every week over the airwaves.
Get Discount Tickets for Volo Museum in Volo Illinois good for 21% off all Adult, Child, Senior and Military Admission Tickets.
Use Coupon Code: FUN21 at checkout

The Volo Auto Museum is open 10 a.m. to 5 p.m. daily and features roughly 400 classic, antique, muscle and Hollywood cars.
Admission is $19.95 for adults, $12.95 for children ages 5 to 12 Seniors (65 and over) – $17.95,Veterans and Military with ID card – $16.95 Military in Uniform and Children Under 5 – FREE.
Volo Museum
27582 Volo Village Road
Volo, Illinois 60073


www.volocars.com


Directions