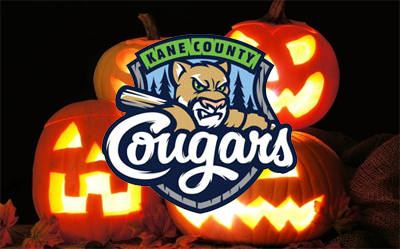 The Kane County Cougars have announced that mascots Ozzie and Annie T. Cougar will take part in a special Halloween promotion on Monday, October 31. Two lucky fans will win the chance to spend their Halloween trick-or-treating with the coolest cats in the Chicagoland area.
From now until 5 p.m. on Thursday, October 27, children between the ages of four and 12 can submit a brief answer to one of the following question:
Why would you like Ozzie to join you for trick-or-treating this Halloween?
Why would you like Annie to join you for trick-or-treating this Halloween?
Families with multiple children are encouraged to enter the Cougars Halloween contest for the opportunity to trick-or-treat with Annie and Ozzie. If submitting for multiple children, please indicate why you would like both Annie and Ozzie to join this year's trick-or-treat outing.
Submissions must be emailed to jboatman@kanecountycougars.com and include the following information to be eligible:
    Name(s) and age(s) of child
    Guardian's name
    Address
    Phone Number
Entries are limited to one per child, although families with more than one child can submit their entries for Annie and Ozzie together.
Each randomly-selected winner will be notified by phone on Friday, October 28 that they have won the opportunity to trick-or-treat with Ozzie or Annie.
Follow the Cougars on Facebook, Twitter and Instagram for updates regarding tickets and promotions for the upcoming 2017 season.
About the Kane County Cougars
The Cougars, Class-A Minor League affiliate of the Arizona Diamondbacks, have been at the forefront of family-friendly entertainment since 1991. In 2015, the franchise became the first Class-A team in Minor League Baseball history to welcome 11 million fans through the gates. A total of 151 former Cougars have reached the Major Leagues including Miguel Cabrera, Nelson Cruz, Josh Beckett, Adrian Gonzalez and Kyle Schwarber.