Take a Virtual Tour of Blackberry Farm in Aurora Illinois.
Blackberry Farm is a living history museum where pioneer life is re-created through educational demonstrations and hands-on fun. Admission to Blackberry Farm includes unlimited rides on the train, hay wagon, pedal tractors, paddle boats, carousel and ponies.
Take Virtual Tour
Visit Website
Directions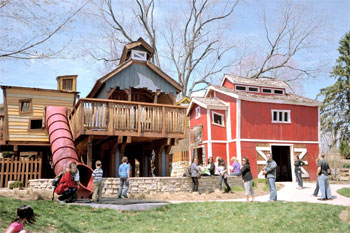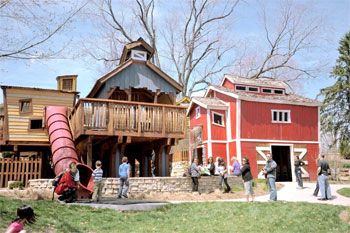 The recently modernized Blackberry Farm is extra special. All the traditional favorites like the steam-engine replica train, carousel, hay wagon rides and pedal tractors remain intact, accentuated by new features and amenities that make each visit all the more exciting.
Even the historic museums and interpreters (blacksmith, potter, seamstress) have a few new wrinkles with a series of interactive exhibits available this year to help truly experience the "real" pioneer life.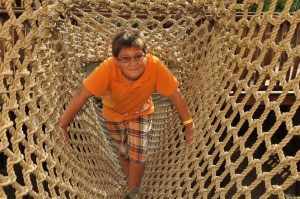 At the top of that list is the revolutionary "Adventure Playground," which has drawn rave reviews all around.
It's an extensive network of climbing decks, slides, ropes and catwalk-style bridges connecting an array of playhouses on multiple levels, bringing a 21st century twist to the historic pioneer village. A 70-foot zip line alongside provides added excitement for youth thrill-seekers.
"More than a playground, it's a unique combination of interactive features; a hands-on farm museum where children go from deck-to-deck answering questions and learning about the history of pioneer life," said Gilmer. "Most children have never experienced something like this."
Other highlights include a 2,500-square-foot picnic shelter that serves as a performance stage for live entertainment – featuring the "Live and Uncorked" series of outdoor concerts enjoyed with adult beverages (beer and wine).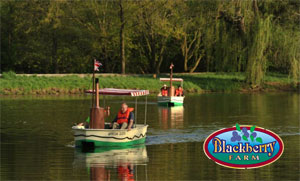 Nearby, on the shore of Lake Gregory, a nautically themed boathouse shelter/pavilion and dock are home to a fleet of paddle boats available to visitors during designated times.
Group picnic shelters have been expanded throughout the park – ideal for larger gatherings.
Blackberry Farm makes for an enchanting venue for special events – weddings, reunions, fund-raisers, corporate outings and the like. Also, birthday parties at Blackberry are all the rage – just ask the kids.
June to August
Monday to Friday: 9:30 a.m. to 3:30 p.m.
Saturday: 9:30 a.m. to 5 p.m.
Sunday: 11 a.m. to 5 p.m.
September – Open Friday through Sunday
Friday: 9:30 a.m. to 3:30 p.m.
Saturday: 9:30 a.m. to 5 p.m.
Sunday: 11 a.m. to 5 p.m.
October
Saturdays, Sundays and Columbus Day (Oct. 10): 11 a.m. to 4 p.m.
Admission: $Non Resident: Adult $8, Kids and Seniors $7; Resident: Adult $5, Kids and Seniors $4.50; Kids Under 2 Free.
Take Virtual Tour
Visit Website
Directions
View Map of Blackberry Farm
Throughout the season, an exciting lineup of events is in store, and we're talking a huge list. Every day is a shin-dig at Blackberry Farm; the resident chickens, donkey, ponies and pig should realize they're living the good farm life.
Upcoming Special Events
Antique Car Show
Su, July 3 from 11 a.m. to 3 p.m.
Join us for our annual car show featuring the area's most unique and amazing cars!
Call 630-892-1550 for more details. Free with admission.
Olivia's Barnyard Blast
Su, July 10 at 1 p.m.
Celebrate National Barn Day with Olivia and friends
Summertime Family Fishing
Su, July 24 from 10 a.m. to noon
$5 – Stay and enjoy the park after fishing! Bait will be available. Non Resident fee: $7
Family Bash
Sat, July 30 at 7 p.m.
$5 – Enjoy the show at Blackberry Farm with rides, games and more! Arrive early for a shot at the dunk tank. At dusk, watch Toy Story outdoors! Bring blankets, picnic baskets and lawn chairs.
Adventure Playground: An extensive network of climbing decks, slides, ropes and catwalk-style bridges connecting an array of playhouses on multiple levels with zip line.
Discovery Barn: See chickens, sheep, piglets, baby goats and more
Pioneer Cabin (1840s): Dutch oven cooking, candle dipping, soap making, heirloom gardens, butter making
Wagner House (1840s): Post-and-beam constructed home from early downtown Aurora
Pottery Shop (1850s): Visit P.H. Smith's Shop and experience many facets of 19th century pottery making–fired on site
Blacksmith Shop (1900s): Watch the blacksmith at work on our forge
Weaver's Cabin (1860s): Busy spinners card and spin wool and flax while weavers weave rugs and textiles on our antique looms
One-Room Schoolhouse (1880s): See what learning was like for children in the classroom
Huntoon House (1890s): Victorian room settings, treadle sewing, quilting, demonstrations and exhibits
Early Streets Museum: Features 12 old-fashioned shops
Carriage House: Offers horsedrawn vehicles
Picnic Areas: Several public picnic areas are available throughout the park
Summer Kitchen Concessions: View full menu