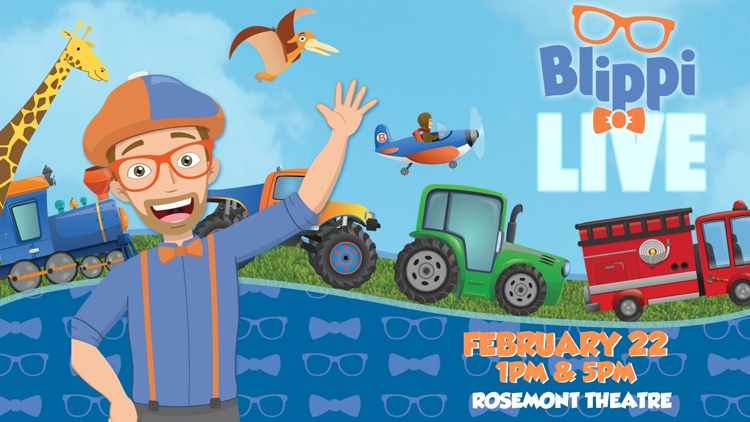 Blippi Live on Stage at Rosemont Theatre
Get Discount Tickets For Blippi Live on Stage at Rosemont Theatre.
SAVE 10% Off Enter Offer Code ROSEFUN before choosing your seats to receive discount.
February 22, 2020
Rosemont Theatre
5400 N. River Road
Rosemont, IL 60018
www.rosemont.com

Today, children's YouTube sensation Blippi announces the first-ever tour across North America. Blippi Live! is set to bring the vivacious, energetic, and educational children's character from the screen to the stage for an all-ages extravaganza of fun, dancing, singing and meeting amazing new friends onstage. The tour kicks off in San Antonio Texas' Tobin Center and will see Blippi traverse the South and East Coast from Texas to Canada.
Blippi's first tour will bring the fun and antics of his beloved adventures to the stage, to provide an interactive, family-friendly show unlike anything else out there. Blippi's appeal lies in his wonder, in the way he looks at the world— "wow, look at that! It's a plane, a tractor, a fire truck and a train"— so expect plenty of fun and discoveries for the whole family. He's taught millions of kids how to count, colors, letters, and much more. In just a few years since his inception, Blippi has become one of the most popular YouTubers worldwide, with over 200 million views per month and billions in total across 139 countries and 5.6 million followers.
More about the show:
Stevin John is the creator of Blippi and acts as the writer and creative force behind the Blippi character. Now that Blippi has evolved as a character he is excited that a dynamic stage performer has been cast as Blippi to entertain and thrill audiences across all of the tour markets.