Brookfield Zoo Lights Holiday Magic
Enjoy over 2 million LED lights at Brookfield Zoo Magical Holiday Magic Light Festival.
It's truly magical to walk the grounds of The Brookfield Zoo, watching all of the twinkling lights, listening to holiday music and enjoying a hot chocolate!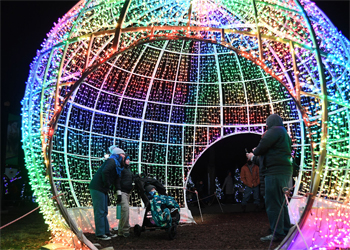 Chicagoland's largest and longest-running lights festival, Holiday Magic has been illuminating suburban Brookfield Zoo for more than 40 years.
Date: Friday through Sunday, November 24-26, 30; December 1-3, 7-10, 14-17, 21-23, 26,31 2023.
In 2023, for NORTH GATE ENTRY, Holiday Magic advance tickets are not required; however, if you are not a member of Brookfield Zoo, you may choose to purchase these in advance below.
You do not need NORTH GATE ENTRY reservations as a member. Advance reservations ARE REQUIRED FOR SOUTH GATE ENTRY, and parking fees will be charged when you make your reservation. Holiday Magic admission is free for members of Brookfield Zoo.
Brookfield Zoo
8400 31st Street
Brookfield, IL 60513
708-688-8351

CHECK OUT DISCOUNTS & COUPONS FOR FUN THINGS TO DO

SIGN UP FOR THE CHICAGO FUN SAVINGS EMAIL NETWORK
RECEIVE NEWS DISCOUNTS & COUPONS FOR FUN THINGS TO DO