Mark your calendars for Free Doughnuts this Friday, June 3, 2016 on National Doughnut Day!  You can get your free donuts to celebrate at these participating Chicagoland Donut store locations.
TRIVIA: Did you know that in the U.S. alone, more than 10 billion donuts are made every year?
Beavers Coffee + Donuts. Come on out to the French Market location or at all three food trucks and get a free mini sugar-dusted donuts and a mini donut milkshake all day Friday. (Beavers Coffee + Donuts, 131 N Clinton St, Fri 7am–7:30pm.)
Dat Donut. Lots of free donuts here and you can also get a great discount of $1 off a dozen glazed donuts. (Dat Donut, 8251 S Cottage Grove Ave, Fri 24 hours.)
Doughnut Vault. Grab the popular special Chocolate Cherry Old Fashioned before it's gone. For the holiday, Doughnut Vault will debut this favorite with an updated recipe. (Doughnut Vault, 401 N Franklin St, 8am.)lots of free donuts in chicago
Dunkin Donuts will give you a free doughnut with any coffee or cold beverage purchase on Friday.
Kanela. On Friday only,  National Donut Day will guests be able to get a special coffee and donut–inspired pancakes. One of their favorites is their coffee cake streusel short stack topped with an espresso créme anglaise. (Kanela, 1048 N Milwaukee Ave, 8am–3pm.)
Krispy Kreme will give each customer one free glazed doughnut, no purchase required. This is at Krispy Kreme stores only (Beechmont Avenue in Anderson Township), so don't try to grab one off the supermarket shelf and eat it, wiseguy.
Busken Bakery (Ohio) will have free glazed donuts in the morning, and discounts on a dozen.
Entenmann's will give 10 people free doughnuts for a year, if you enter via their Facebook page. Not sure I really want free doughnuts for a whole year, but I've never turned down a freebie, so why not.
MAK. BOGO — If you purchase of any bowl, wrap or chicken wings, you will be awarded a FREE five spice or black sesame donut (MAK, 1924 W Division St, 11am–10pm.)
Tim Horton's typically posts a coupon for a free doughnut on its website the morning of National Doughnut Day, if you have any Tim Horton's (Canadian chain) in your area. In Canada, you'll find one on every block.
LaMar's (Midwest and South) will have free doughnuts Friday.
Stan's. Purchase a beverage and get a glazed donut, for free. (Stan's, 1560 N Damen, Fri 6:30–9pm.)
Porkchop. Free donut with dinner.  Grab some dinner and end on a sweet note with a free bacon maple glazed donut.(Porkchop, 941 W Randolph, 11:30am–midnight.)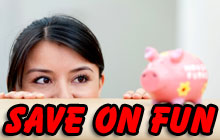 Join our Private Facebook Group Chicago Fun Coupons and start receiving exclusive discounts, coupons and deals in your newsfeed. This is a great place to find and share info related to saving money on fun things to do, party planning services, special events, travel and other activities. 
Here's the background on National Donut Day which is always the first Friday in June.
National Doughnut Day honors the Salvation Army "Lassies" of WWI. It is also used as a fund raiser for needy causes of the Salvation Army. National Doughnut Day was established in 1938 by the Chicago Salvation Army to raise much-needed funds during the Great Depression, and to honor the work of World War I Salvation Army volunteers who prepared doughnuts and other foods for thousands of soldiers. The original Salvation Army Doughnut was first served by Salvation Army in 1917. national-donut-dayDuring WWI, Salvation Army "lassies" were sent to the front lines of Europe. These brave volunteers made home cooked foods, and provided a moral boost to the troops. Often, the doughnuts were cooked in oil inside the of the metal helmet of an American soldier. The American infantrymen were commonly called doughboys. Salvation Army lassies were the only women outside of military personnel allowed to visit the front lines. Lt. Colonel Helen Purviance is considered the Salvation Army's "first doughnut girl".