Dave's Pumpkins in Huntley Illinois.
When it's time for pumpkins, Dave's Pumpkins is a fun experience for the whole family that doesn't cost a fortune. We have never charged an admission fee. All Pumpkins Any Size, $8 (we don't sell by the pound).
Bring the family for a fall celebration with hay rides, pumpkin bowling, old fashioned pedal tractors, mini broom corn maze, pumpkin checkers and antique real farm tractors. 
Enjoy fresh pumpkins amazing produce and the best cider donuts in the county.
HAUNTED DAYLIGHT HAY RIDES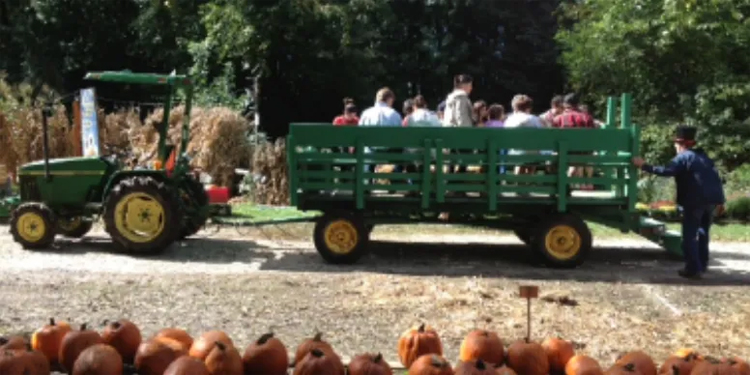 Join us for Dave's Amazing Daylight Halloween Hay Ride! It's better than ever this year with a ride through acres of terrific trails, wild woods and a mysterious marsh.  According to legend, long ago the ghosts of Caribbean pirates navigated from the Gulf of Mexico up through Illinois to hide away in these marshes. If you look closely you will see these spooky pirates too! They might be fishing, shooting a cannon or just sitting around a campfire. The spooky sights are fun for all ages and not too scary for the little ones.
Rides are 15 minutes long. $5 per person, 2 and under free. Open Sat – Sun 10 AM – 6 PM.
SPOOKY NIGHT TIME HAY RIDES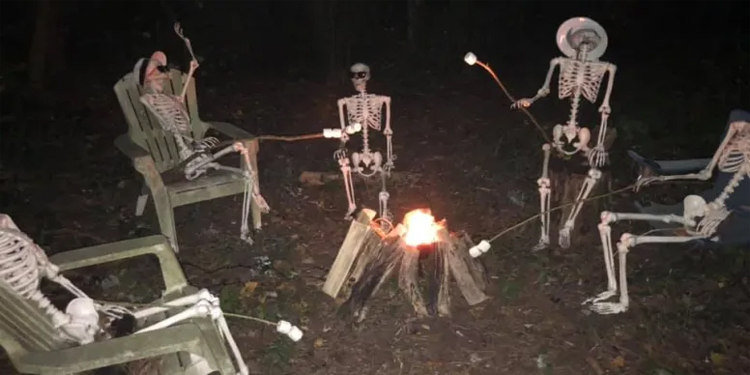 Dare to enter the murky marshes and eerie forest after sunset at Dave's Pumpkins in Huntley. Everyone knows our Halloween hayrides are great fun in the afternoons, and now you can enjoy the same ride after dark. Still good for all ages, there are no live actors, no chain saws, just decorations that seem to come to life in the crisp fall evenings.
Saturdays only, 6 PM to 8 PM. $5 per person, 2 and under are free.

MINI CORN MAZE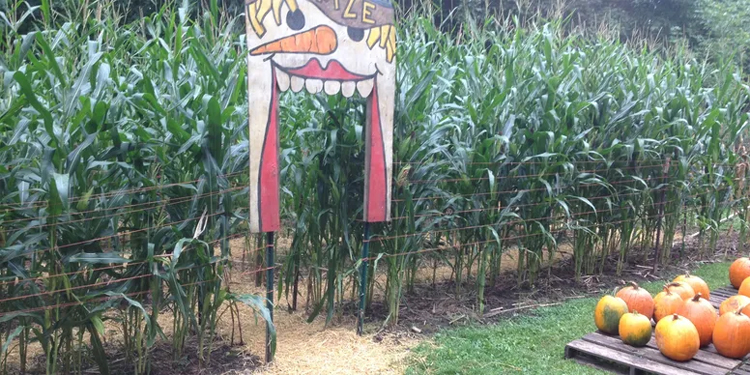 Mini maze for the kids, big enough to have fun but small enough to keep track of everyone.  Good for all ages, and not so big that you need a map.
Free Admission. Open every day.
Check Out All The Activities Here…
All Pumpkins Any Size, $8 (we don't sell by the pound)
Free Admission
Free Parking
Fall Fun at Dave's Pumpkins, Two Huntley locations: our original farm market with family activities and our new pick-your-own pumpkin patch 3 miles west.
Dave's Pumpkins
9112 Algonquin Road
Huntley, Illinois 60142