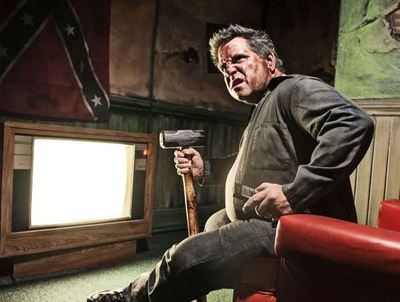 Save Up to  32% off discount tickets admission to Massacre Haunted House in Montgomery Illinois.
Seeking a scare? Look no further than this eerie Naperville area haunted attraction.  Ghastly horrors prowl Massacre Haunted House in search of new victims and fresh screams. Inside, 75 actors in full makeup startle wary explorers navigating more than 60 rooms strewn with gruesome scenes that would strike fear into the heart of any adult, teen, or amnesiac zombie.
Unsettling mazes and living nightmares stand between brave souls and the exit, where a second haunt—Freak Show 3D—awaits to pull them deeper into the madness. Where the haunted house may have turned hairs white with the help of live actors, the factory coaxes screams with 3D special effects made possible with specialized glasses.
Massacre Haunted House Discount Tickets:
• $15 ($25 value) for general admission
• $20 ($35 value) for express entrance
• $25 ($40 value) for general admission and a T-shirt