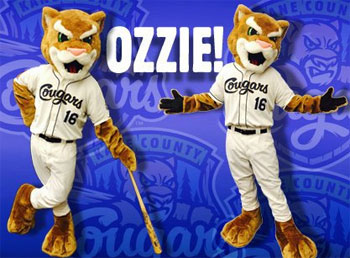 Kane County Cougars Discount Tickets Buy 1 Get 1 Free Reserve Seats or Lawn Seat Tickets.
Enter the Special Offer Code CHICAGOFUN when prompted to Save 50% Off
Good for any 2022 regular season home game.  Order Your Tickets Online Here.
Save 50% Off all reserved and lawn seat tickets at The Kane County Cougars Nortwestern Medicine Field in Geneva Illinois.
Get ready for more exciting Theme Nights, Fireworks and Sunday Fun Days at the ballpark this season! The Kane County Cougars are providing the most fun in Chicagoland with various theme nights for fans to participate in.
Kane County Cougars
Northwestern Medicine Field
34W002 Cherry Lane
Geneva, IL 60134
Phone: 630-232-8811
E-mail: info@kanecountycougars.com
CHECK OUT MORE SAVE ON FUN COUPONS BELOW!!
FOLLOW US ON FACEBOOK FOR DAILY COUPONS DISCOUNTS & GIVEAWAYS!