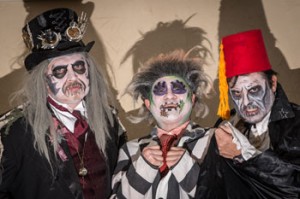 Don't be scared, as the Kane County Cougars celebrate Halfway to Halloween on Friday & Saturday, May 1st & 2nd.   Youngsters can Trick or Treat throughout the ball park before the game and our costumed fans can participate in a pre game parade on the field.
You wont want to miss the Zombie Apocalypse Party hosted by Chicagofun.com. It's Everything You Crave in Undead Entertainment!  Meet Horrible Harry the murdered magician and Beetle Juice will be hosting a Spooktacular Game Show.  Halloween themed face painting by their goulish artists will sure to bring a smile to everyone. ZAP has a full arsenal of Zombie themed events from Zombie Game Shows, Scavenger Hunts, Magic Shows, Zombie Apocalypse Murder Mysteries and More.
Enhancing this goulish experience All Dressed Up Costumes will be providing costume characters and face painting as well.
Throughout the evening, the Cougars will  host various Halloween~related contests and all the Cougars players will be wearing custom half way to Halloween Jerseys.  After the game fans will be treated to a Halloween Themed Fireworks Show.
This is the first in a series of 21 Theme Nights hosted by the Cougars throughout the season.  The Kane County Cougars are the class A affiliate of the  Arizona Diamondbacks.