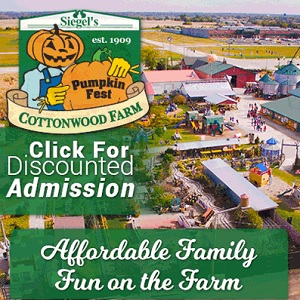 Pumpkin Fest Sat., Sept. 25. Through Oct 31st including Columbus Day daily 10am to 6pm.
Siegel's Pumpkin Farm Fest Discount Tickets: SAVE $3.00 Off Online Weekend and General Admission Ticket Purchases. Over 35+ unlimited attractions included.

Use Promo Code at check out: "CHICAGOFUN3".
CLICK HERE to purchase tickets.
Siegels Cottonwood Pumpkin Fest 2021 Celebrates over 30 years of Affordable Fun on the Farm. Come harvest family memories on over 50 acres at Siegel's Cottonwood Farm in Lockport Illinois.
2021 Corn Maze:  Super Mario Brothers!
I'll bet you've heard one person tell another person to get lost, more than once, this year. And here at Siegels Cottonwood Farm, we're gonna tell you again…Get Lost….But our Get Lost, is probably different than what you've been hearing from other people…When we tell you to get lost here at Siegel's Cottonwood Farm. We're telling you to head on over to Siegel's Cottonwood Farm "Super Mario Brothers" Corn Maze!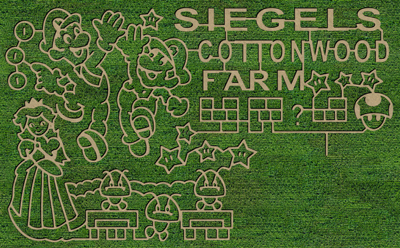 And this year's Siegel's Cottonwood Farm is actually the opposite of telling someone to get lost. So instead of trying to tear each other down…Let's Work Together, Let's Live Together, And let's put our differences aside, because when we unite, we are stronger together.
This year and every year from now on we are all about unity and love for your fellow man or woman…with so much darkness in the world today, you go out there and be a light!
So Grab your family or friends and come get lost and Harvest family memories in this year's World Famous "Super Mario Brothers" Corn Maze, Because Getting Lost has never been this much fun.
Pumpkin Fest – "Affordable Fun on the Farm®" – is open daily 10:00 a.m. – 6:00 p.m. from September 25, including Columbus Day, through October 31st. The Siegel's family welcomes all to come to the farm and harvest family memories. General admission tickets include more than 35 attractions and activities, including: Giant mountain slide, 5 play areas, tire mountain, farm animals to pet and feed, Siegel's Sports Zone, Duck Races, Zip Lines,wagon ride, u-pick pumpkin field, haunted barn, train rides, two cornfield mazes and so much more.
Special events scheduled for Pumpkin Fest 2021 follow our Facebook Page to stay up to date on the fun this fall.
Siegel's Cottonwood Farm


17250 S. Weber Road
Lockport IL 60441
www.ourpumpkinfarm.com

---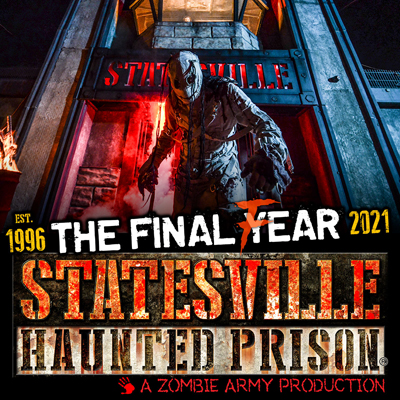 BONUS COUPON
Statesville Haunted Prison® FINAL FEAR Discount Tickets.  SAVE $5.00 off General Admission Tickets Purchased Online.
Use Promo Code at check out: CHICAGOFUN5.
CLICK HERE to Purchase Tickets.
---
CHECK OUT MORE SAVE ON FUN COUPONS BELOW!!
FOLLOW US ON FACEBOOK FOR DAILY COUPONS DISCOUNTS & GIVEAWAYS!