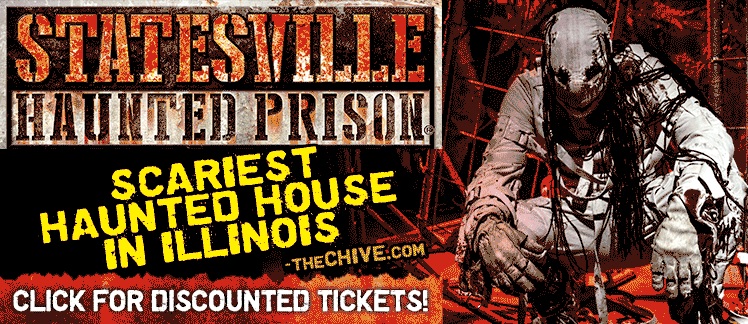 Statesville Haunted Prison Coupon
This Statesville Haunted Prison Coupon allows you to receive $5.00 off general admission for one guest on THURSDAY NIGHTS ONLY during the 2018 season.
The Prisoners have rioted, the guards have fled, a darkness has seized control of this Maximum Security Prison and our Warden has opened the gates for visitors. That's right – Statesville Haunted Prison continues to provide the shocks and scares this Halloween. After the prisoners have processed "The Meat/Visitors", you will be forced to find your way through 23 maximum security cells and come eye to eye with over 100 criminals that were too evil to die.
With new characters, new rooms and new screams added each year, come see why it has been voted Illinois' longest running – and most acclaimed haunted house. Thanks to its cutting edge effects, attention to detail and aggressive believability of 175+ actors, Statesville Haunted Prison has been nationally recognized by several leading outlets, including Fox News, MSNBC, Time Magazine and CBS. An aggressively interactive experience that is not for the faint-hearted, Statesville Haunted Prison is getting ready to open its cells for the 2018 season.  But be warned – noone escapes.
CHECK OUT MORE SAVE ON FUN COUPONS BELOW!!
FOLLOW US ON FACEBOOK FOR DAILY COUPONS DISCOUNTS & GIVEAWAYS!