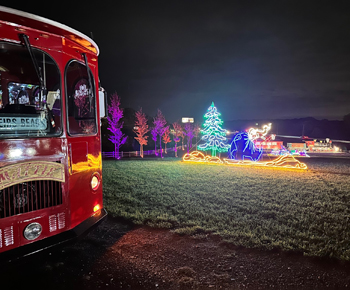 All Aboard the Time Warp Express!
Santa's in trouble! The cheerful Christmas festivities take a dark turn when Santa's trapped in a time vortex. Join his frantic elves on a heated trolley ride, embarking on an immersive adventure featuring interactive storytelling, mesmerizing displays, and a surprising finale!
Fridays & Saturdays, Nov. 10th – Dec. 30th, 5:00 & 7:30.

You're invited to hop aboard the Time Warp Express for a Jolly Trolley Adventure to Save Santa this holiday season at the Volo Museum.
Things will start out with a traditional gathering featuring complimentary hot chocolate and cookies with Santa and his elves.
But it quickly will turn into an adventurous trolley tour to Save Santa.
Santa, along with his joyful elves, will eagerly await your arrival.
Trolley riders journey through the Ice Age, the Jurassic period, the 1800s and into the modern era, passing everything from helicopters and tanks to giant shopping carts and Radio Flyers along the way. There's even a stop planned at the museum's jaw-dropping Jupiter train, providing an unparalleled photo backdrop.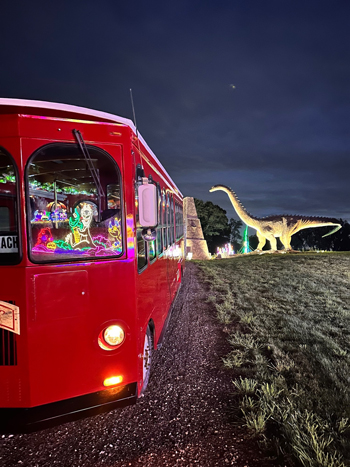 That's not to mention the massive, animated Christmas light displays and hundreds of uplit trees also bedazzling the path.
Santa's elves will ride along, providing a fun, interactive storytelling experience with surprises that simply won't be found anywhere else,
Tickets for the Jolly Trolley Adventures are available now, in limited number. Those interested may choose from 5 p.m. or 7:30 p.m. showings Fridays and Saturdays only, from Nov. 10 to Dec. 30.
A sneak peek weekend, for museum members only, will be Nov. 3-4.
Volo Museum
27582 Volo Village Road
Volo, Illinois 60073
www.volocars.com