Family Halloween Costume Party at WhirlyBall
WhirlyBall is hosting a Family-Fun Halloween Costume Event.
Saturday, October 22nd, 10 a.m. – 1 p.m.
Have your family-friendly event at WhirlyBall! Come in costume with your family and have fun.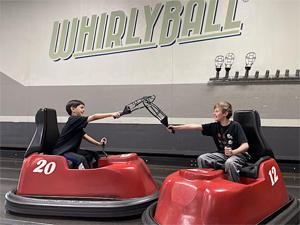 Locations:
WhirlyBall Chicago
1825 W Webster Ave.
Chicago, IL 60614
Get Tickets…
WhirlyBall Naperville
3103 Odyssey Court
Naperville, IL 60563
Get Tickets…
WhirlyBall Vernon Hills
285 Center Drive
Vernon Hills, IL 60061
Get Tickets…
Each ticket includes:
Bottomless Activities – Access to WhirlyBall, Bowling, LaserTag, and Pop-Up Games during the Halloween Event.
Pivot Room Buffet – Assorted Pizza, Cheeseburger Sliders, Chicken Bites, Mac & Cheese Bites, Assorted Desserts.
Beverages – Fountain Drinks included, Cash Bar for Alcoholic Beverages will be available.
Please note: You must be 54″ in height in order to play WhirlyBall. You must be 7 years old to play LaserTag. All activities are non-exclusive and you may be sharing the space with other groups. Bowling ramps are available for the littles.