Welcome to Apple Holler, where you can pick your own memories all year-long.
Apple Holler is a farm-to-table restaurant, bakery, gift shop, orchard, and family farm, offering four-seasons of family fun and activities, including pick-your-own apples, peaches, pears and pumpkins PLUS orchard and farm tours, children's programs, harvest moon hayrides, winter wonderland sleigh rides and barnyard animals to visit. Apple Holler's big red barn is also a perfect indoor/outdoor rustic wedding venue.

The Apple Holler Red Barn Restaurant offers delicious down-home cookin' touched by the magic of apples, serving breakfast and lunch every day of the week plus dinners on the weekends. Apple Holler's Family Farm is an Ag-tourism destination "for the kid in all of us" where the Ag-venture is always growing, and all people are welcome.
Activities and events for the whole family
EXPERIENCE ALL FOUR SEASONS! At Apple Holler, we believe memories should be made all year, which is why we celebrate the magic of each season with a variety of activities and events that have been carefully designed so that you and your family can create wonderful memories while you are visiting us.
Fall offers a unique magic at Apple Holler. Crisp, fresh air, the rustle of leaves under feet and our orchards just brimming with apples ready to be picked. Visit us in the fall to participate in our apple and pumpkin pickingactivities, schedule a private hayride, or join us for our annual Walk for MS. This Thanksgiving why not start a new tradition and instead of spending time in the kitchen cooking, join us in our Red Barn Restaurant for our delicious Thanksgiving Prime Rib Dinner Buffet.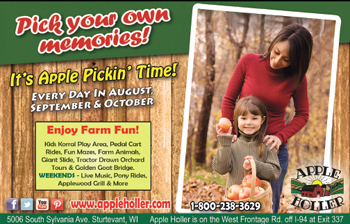 As you stroll through our wondrous orchard, breathing in the crisp autumn air and enjoying the perfect family outing, you will see our abundant assortment of apples. We have more than 30,000 select dwarf apple trees in 30 varieties. Check out our picking calendar to see when your favorites are ready for picking! We will keep you updated on which apples we're picking through our Facebook page and homepage.
In addition to a memorable pick your own apples experience comes admission to our entertaining Farm Park. From barnyard animals and wagon rides to mazes and trains, we ensure you a day packed with fun, as we offer something for everyone to enjoy.
Visit their website

for more information or call 262.884.7100.
CHECK OUT MORE SAVE ON FUN COUPONS BELOW!!
FOLLOW US ON FACEBOOK FOR DAILY COUPONS DISCOUNTS & GIVEAWAYS!