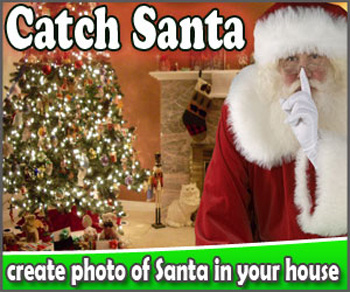 Create a photo of Santa Claus in your house or any location.  Catch Santa in the act!
Imagine the look of amazement and surprise on Christmas morning when your children see a picture of Santa in their living room and you announce I  Caught Santa! With this Santa photo you will have the best Proof that Santa Exists! Catch Santa in the act in more than 100 different poses!
Want Santa delivering presents under the tree? Santa eating milk and cookies, under the mistletoe, asleep on the couch? With over 100 poses you can Catch Santa literally anywhere!
Tell all your friends that I Caught Santa at Capture The Magic! Santa Proof is just a click away! A Santa Photo sure to create memories for a lifetime!
Save On Fun Coupons Discounts & Deals Throughout Chicago and Suburbs
Come Back Often We Ad New Discounts Every Week!