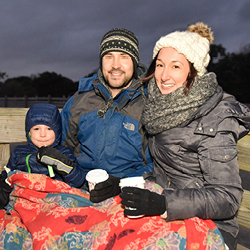 Hayride Fun For All! St. Charles Park District Primrose Farm Autumn Hayrides.
October calendars can quickly fill up with autumn festivals, costume parties and pumpkin carving, so why not slow down to enjoy the beauty of the season with an old-fashioned hayride and bonfire at Primrose Farm in St. Charles?
Moonlight hayrides are offered on Fridays at 5:30pm, 6:30pm and 7:30pm or on Saturdays at 3:30pm, 4:30pm, 5:30pm, 6:30pm and 7:30pm beginning October 2 through October 24.
Register in advance at https://stcparks.ticketleap.com/hayrides2020/. Due to COVID-19, hayrides are sold per wagon this year. The fee is $120 per 8-12 people and $200 for 13-20 people Ages 1 and under are free. Primrose Farm is located at 5N726 Crane Road in St. Charles. For more information, call Alison Jones at 630-513-4374.
The 2-mile, 30-minute ride on Primrose property is the perfect opportunity to spend quality time with family; or enjoy a night out with your church groups, Scouts and other organizations, as the modern John Deere tractors pull two wagons each.
Breathe in the crisp evening air, taking in the 100-plus acres of rural landscape. Gaze at the visible stars and the moon lighting the way as the hayride travels along the soybean field, into the hayfields, towards Ferson Creek and then follows the tree line back to the barn.
The ride is family friendly without haunted decorations and effects, which is what draws many people to this annual event.
"It's hard to find Halloween activities for younger kids who don't want to be scared or children with special needs who may have sensory sensitivities," said Alison Jones, Manager of Farm Programs and Interpretive Services. "Our ride is not scary. It may be dark, but it's not spooky."
Once the ride is complete, head over to the bonfire and roast marshmallows and drink hot chocolate and hot cider provided by Primrose staff. Or add your own chocolate bars and graham crackers to make s'mores. Better yet, make a night of it by bringing dinner to enjoy at one of the many picnic tables. And don't forget to say hello to the friendly farm animals including donkeys, sheep, goats and cows.
"Having a bonfire and being able to see the animals really sets us apart from other hayrides in the area," Jones said. "The moonlight hayrides are one of our most popular programs, and it's fun to see many repeat guests from the same groups each year."
For more information, call 630-513-4370 or visit primrosefarmpark.com.
CHECK OUT MORE SAVE ON FUN COUPONS BELOW!!
FOLLOW US ON FACEBOOK FOR DAILY COUPONS DISCOUNTS & GIVEAWAYS!