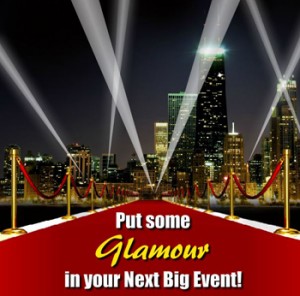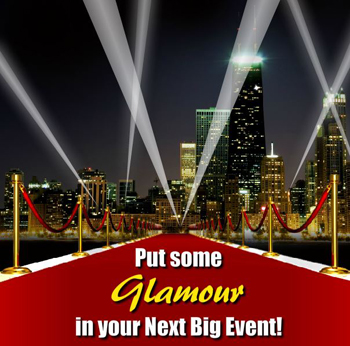 Hollywood Nite Lighter specializes in searchlight rentals in the Chicago area.
Since 1948 Hollywood Nite Lighter has illuminated thousands of Chicagoland's biggest and best events…let us shine a light on yours!   No event too big or small!  Searchlights! 4-Way Rotating Beams! High Intensity Single Beams! Our comprehensive inventory combined with creative designers and knowledgeable technicians are just what you need to get your event noticed.
Put some glamour in your next event with Elegant Red Carpeting! Sophisticated Chromed Stanchions! Soft Velvet Ropes! All that's missing is the Papparazzi!
Our designers can help you plan an entrance that will set the stage for your entire event. We mak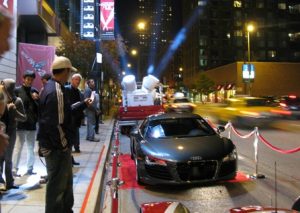 e it easy for you to impress your guests. Our staff takes care of everything from design and set-up to maintenance and removal. If you need to make a grand entrance to impress…let Hollywood Nite Lighter roll out the Red Carpet!
Draw attention to your next Chicago area event with searchlights! Searchlights are great for Casinos, Auto Dealerships, Grand Openings, Nightclubs, Concerts, Concert Halls, Tradeshows, Conferences, Mitzvahs, Dance Clubs, Halloween, Haunted Houses, Theatres, Promotions, Race Tracks, Product Launches, Restaurants, Store openings and events, Sports Complex, Movie Premiers, Awards Ceremonies, and Theme parks and more.
Visit Their Website or call 630-393-1545 for more information. 
CHECK OUT MORE SAVE ON FUN COUPONS BELOW!!
FOLLOW US ON FACEBOOK FOR DAILY COUPONS DISCOUNTS & GIVEAWAYS!