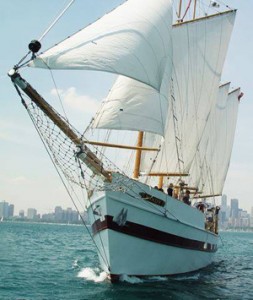 This Tall Ship Windy of Chicago Tour Coupon allows you to take $30 off a family of 4 (includes 2 Adults 2 Children) $80 Value
Join today's adventure for spectacular city views, exciting Great Lakes history, and the simple joy of sailing aboard Windy, Chicago's very own tall ship! During your 75 minute cruise, passengers are encouraged to join our crew and help Hoist the Sails and Pass Commands from deck to deck aboard the 148′ gaff rig schooner, Tall Ship Windy. 
Windy sails with the wind, making every sail different, as we go where the wind takes us. Our crew loves to talk and answer questions about sailing, Great Lakes History and Chicago's skyline. After work bring your friends and join us for the Friday night "Whale Watching Sail" designed to take away the stress of the day complimented by beautiful views of Chicago. Most days you could find a "pirate" or a 19th Century sailor, or two, telling stories of a Sailor's Life, Real Life Piracy, and Ghostly happenings!
Navy Pier – Tall Ship Windy
600 E Gand Ave
Chicago IL 60611
312-451-2700
CHECK OUT MORE SAVE ON FUN COUPONS BELOW!!
FOLLOW US ON FACEBOOK FOR DAILY COUPONS DISCOUNTS & GIVEAWAYS!